How to Rank Your Podcast on iTunes
How to Rank Your Podcast on iTunes
There are a lot of things you can do to make your podcasts better. But no matter how good your podcast is, if no one finds it then all your effort is wasted.
In this post, I will share a few very actionable tips on how you can show iTunes that your podcast is worth high ranks.
So without further delay, let's jump right into it.
1. Beautiful Cover Art
Creating good cover art is critical in getting a better click through rate for your podcast. Humans are visual creatures and good images can often lead to a download and eventually a following. To get started look at the top podcasts in your genre and create something better than that.
2. Consistency
Research shows that podcasts that are consistent tend to have a better following on iTunes. Take the Monday Morning Podcast by Bill Burr for examples, Bill consistently puts up an episode every Monday and Thursday. This helps his audience predict their consumption cycle.
3. Catchy Headline
80% of the people read the headline where as only 20% of the people read the content. Writing a great headline is almost 80% of the job done. So spend time in making sure you add keywords that your audience is looking for when they search for podcasts in your domain. ProBlogger does an excellent job of writing some really good headlines for their podcasts.
4. Thoughtful Description
While writing a description for your podcast make sure you add relevant keywords that your audience might be searching for. Add 2 or 3 keywords related to your niche in your description. Also, make sure that your description is short and sweet, no one would like to read descriptions that are longer than the podcasts.
5. Get Inspired
Podcasting has been prevalent for more than a decade and no matter what your niche, chances are that there are already some podcasters who have explored it. So look at podcasts like that and see if there are any good learnings from there. To start things off, take the top 5 podcasts that appear for your keyword searches and look for what they have in common and see if you can better that.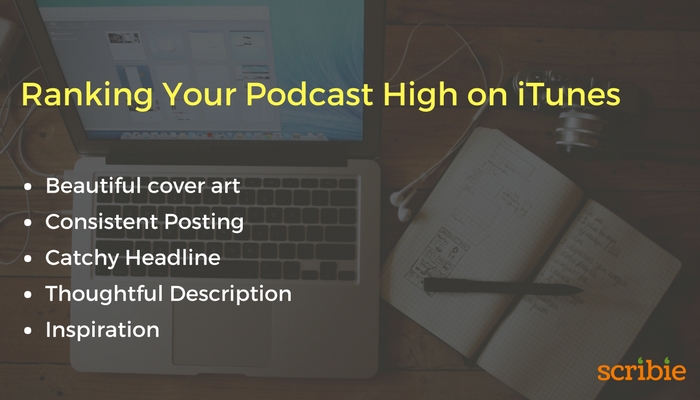 Bonus Tip:
New and Noteworthy Section
This is an opportunity that is available only for the first few weeks after your podcast goes live. New and Noteworthy section of the iTunes can bring some massive free traffic to your podcast.
It is common wisdom among seasoned podcasters that a good cover picture, click-worthy headline, decent description, reviews, and consistency of posts are some of the qualities that can get you effectively into the N&N Section of iTunes.
These were some of the things that you can do today to make sure your podcasts rank higher on iTunes. Have any more questions? Let us know in the comments below.