Should Podcasters Invest in Transcripts?
Should Podcasters Invest in Transcripts?
As a podcaster, you aim to create content that is informative, engaging, and entertaining for your listeners.
You want to optimize them with the right length/runtime, post at an ideal frequency, and make your content accessible to people who may have hearing disabilities or those who simply prefer reading.
Podcasts continue to gain traction. Up to 50% of all US homes are podcast fans. Even amid the Covid-19 pandemic, spoken audio consumption has increased where 40% of respondents say they're listening more since quarantine restrictions.
If you're looking to grow your podcast audience, consider making podcast transcription a regular part of your publishing process.
How long should your podcast last?
A good way to determine the length of podcast episodes is to first decide your schedule. If you launch episodes daily, an ideal length would be about 10-15 minutes per episode. Weekly episodes should hit somewhere between 15-60 minutes. As for monthly schedules, you could publish episodes up to 90 minutes long. Remember, this formula is not set in stone as your mileage may vary. However, it's a good guideline as you start deciding the best length for your podcast.
Secondly, when deciding how long your podcast should last, consider your content. One thing to keep in mind is that content shouldn't be created to fit length. You should edit your podcast's length to fit the content. Here's what I mean – if your episode contains a solid 15 minutes of good content that stays true to its title and serves your audience, then 15 minutes is your ideal podcast episode length.
How often do (or should) you post?
To know how often you should post podcasts, first determine how timely you want your content to be. Afterward, set a schedule and carry on with that schedule.
Once you've decided on your frequency, you can select your optimal episode length.
Keep in mind that consistently publishing content correlates with your ability to build a faithful audience.
Here's a handy guide for coming up with the best publishing schedule. The following are recommendations by The Audacity for podcast frequency and episode length based on what they have heard from many other listeners as well as what seems to work among the most popular podcasts.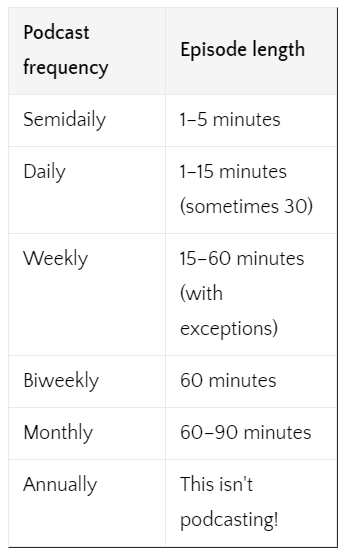 What's the cost of having your podcast transcribed?
If you're wondering exactly how much podcast transcription online costs, you can save with Scribie's transcription tool and services. Here's a rundown of the fees associated with transcription services:
Automated transcription services, where your podcasts are transcribed without human intervention, costs $0.10/min. An automated transcript provides you with a quick first draft of your recording. Our free transcription editor lets you quickly edit your transcripts online afterward to remove any errors.
However, if you want an error-free transcript with quality assurance from the get-go, you may order manual transcription services with rates at $0.80/min. 
Allow me to calculate the podcast transcription rates for you depending on your episode length. So, for example:
5-minute podcast: $1 for automated transcription and $4 for manual transcription services.
15-minute podcast: $1.50 for automated transcription and $12.00 for manual transcription services
60-minute podcast: $6 for automated transcription and $48 for manual transcription.
90-minute podcast: $9.00 for automated transcription and $72.00 for manual transcription services.
Consider that Scribie's transcription service fees are much lower than other services, as you can see here.
The ROI of adding transcripts
If you want to enjoy a higher return on investment for your podcast, add transcripts to your podcasts. If you're choosing between automated or manual transcription, we recommend that you order manual podcast transcription services from Scribie.
Here's why a manually generated transcript is better. First off, automated transcription software doesn't detect the conversation's context in a way that affects accuracy. Automation finds it more difficult to identify different speakers, add appropriate paragraph breaks, and use proper punctuation.
Transcription by our professional transcribers, on the other hand, ensures your transcript is high-quality, convenient, and error-free for public or internal use. It's great for large files, fast talkers, accented speakers, or files with audio challenges like background noise or distortion. It also includes a time-coding feature that helps you determine when a sentence was spoken.
Making transcripts part of your publishing schedule will help you enjoy numerous benefits.
You become more discoverable by attracting listeners who search for your content. As podcasts consist of audio files, it's not easy looking for them on search engines. With a transcript, search engines can crawl through your content and allow audiences to find you. You can enjoy SEO benefits, so your podcast can end up on the first page of Google.
Resonate more with your audience. Transcripts help you become more engaging and accessible to all listeners. Whether they're stuck in a noisy environment or simply prefer reading, a transcript makes it easier to follow the train of thought and digest your content. Your content becomes more impactful if listeners can both hear and read your podcast.
Save editing time. Transcripts make it easier to edit your podcast after recording. It helps you get a better overview with a written copy that contains timestamps of essential moments in your recording.
Additionally, it's easier to consume with a transcript. Your audience can easily share quotes from your content. You can add backlinks and calls-to-action.
A transcript also lets you repurpose content into blogs, e-books, or other formats that will help you rank higher on search engines and show up on more channels.
Over to You
There is a multitude of reasons why you should add transcripts to your podcast. It makes your content more accessible, engaging, discoverable, and easier to edit.
Moreover, manual podcast transcription services are the best option for podcasters who want to guarantee quality text copies of their audio, accurate speaker tracking, and appropriate paragraph breaks.
Grow your podcast with transcripts and give your audience a better listening experience. Submit your podcast and order a transcript today.