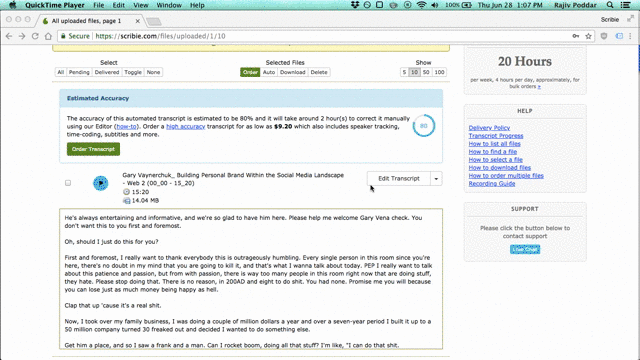 We provide a browser based-editor which can be used to quickly correct the automated transcripts. Click the Edit Transcript button to launch it.

The first thing you will notice is the audio waveform at the top. That is the audio player.  Clicking anywhere on it will take you to the corresponding word in the transcript.
The first row of buttons are the controls. Each button also has a corresponding keyboard shortcut so that you don't have to use the mouse which saves a lot of time. The important shortcuts to remember are CTRL+P to play/pause and CTRL+O to rewind (CMD for Mac).
The second row of buttons are some controls for the text editor. Hover the mouse over the button to get a description of what the button does. It's mostly self-explanatory.
You will also notice some text underlined in blue and red. The red ones are spelling mistakes. Run the spell check to correct those. The blue ones are where our speech recognition engine was not confident enough and so those may be mistakes. You can right click on those and choose Play Word to check the corresponding audio.
The following are the list of corrections which tend to be required in the automated transcripts:
Mistakes: These are words which are incorrectly transcribed. Most of these words will have blue underlines.
Speaker Turns: Our speech recognition engine misses around 40% of the turns. So some paragraphs may actually have two speakers in them (we are working to improve it).
Punctuations: There may be some missing periods. The commas and other punctuations are mostly correct, although we only provide the start quote. The end quote has to be manually inserted.
Capitalization: Some of the capitalized words may be wrong. Some other words may need to be capitalized.
We recommend the 2-pass approach to make the corrections. First play and check the blue underlines. Those are the low-hanging fruits and you can get them out of the way fast.
Next, play the audio from the beginning and make corrections as you go along. Whenever you notice a mistake, pause, make the correction, and resume play. Rinse and repeat till you reach the end of the file. Increasing the playback speed can also help in cases where the accuracy is more than 80%.
Once you are done with the edits, Click the Download button at the bottom for the Word Document or other formats.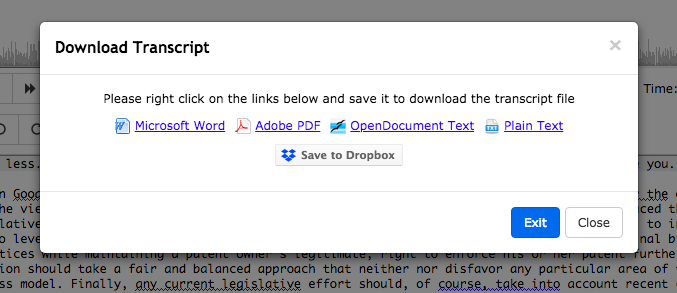 Effectively, it takes around 3-4 times the duration of the file to correct the automated transcript, if you include the time for replays. It is also easy to lose focus on long files. So, remember to take breaks. Without the automated transcript, you may have to spend 8-10 times the duration of the file.
Of course, if you do not have the time, our transcribers will be happy to make the corrections for you. We guarantee 99% accuracy for our manual transcripts. Please do try it out.