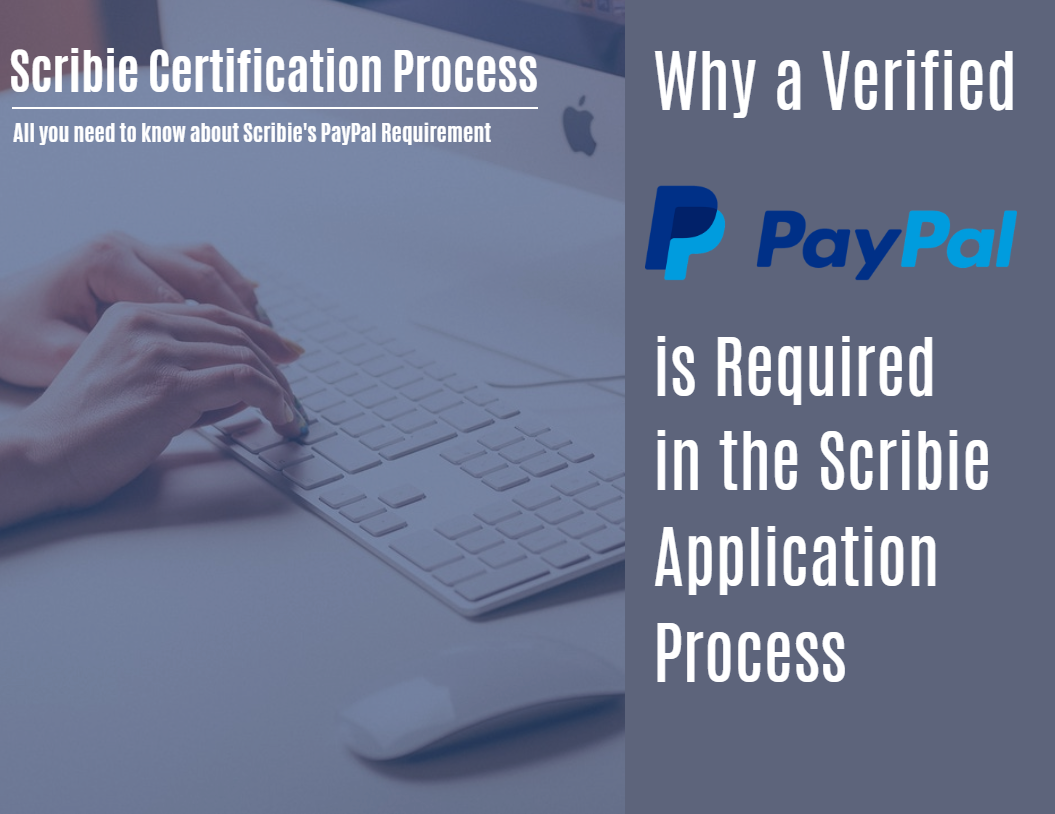 As you go through the application/certification process to become a freelance transcriber at Scribie, you will reach the step where you need to log in to your PayPal account to link it to your Scribie applicant account. Some applicants are apprehensive or skeptical about this step and why it is required. We have written this blog post to address that concern and to answer the many frequently asked questions related to PayPal.
PayPal-Related FAQs in the Transcriber Guide
Regarding the main question of whether logging in with PayPal is safe, if we support other payment methods, etc., these are all answered in the Transcriber Guide FAQs. We have added them below for quick reference.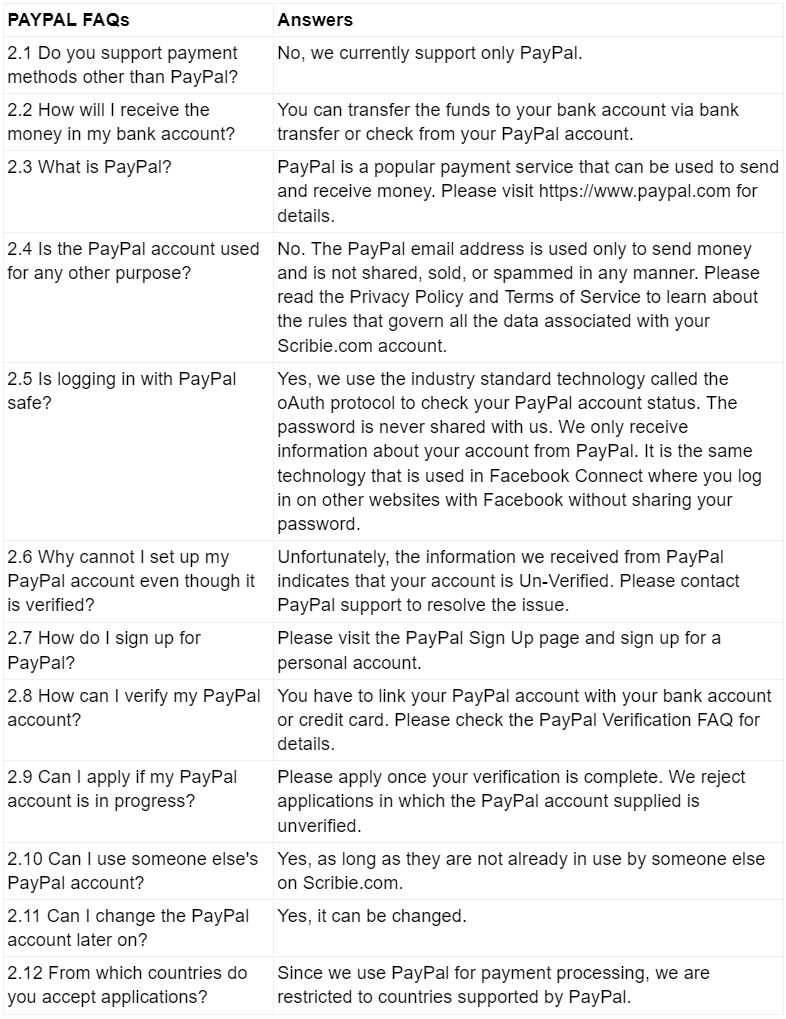 Regarding the PayPal account security, I would like to add that when you log in with your PayPal email and password on the Test page of your Scribie account, you do not grant Scribie access to your account. Rather we just query the PayPal server using your input to check whether your PayPal account is verified or not.
Why a
Verified
PayPal Account is Required
We send payments only via PayPal and we require a Verified PayPal account in order to be eligible for this program. This requirement is specifically to ensure that you are able to receive the money when we transfer your earnings from your Scribie account to your PayPal account. 
A Verified PayPal account indicates that you are able to successfully transfer your earnings to a bank account eventually. Thus you can only proceed with your application once you have a PayPal account with Verified status. 
Other related questions regarding a verified PayPal are answered below.
1) What does a Verified PayPal account mean?
When you're sending and receiving money, a "Verified" status is your stamp of approval. It lets other PayPal members know that you are a confirmed PayPal member with a current, active bank account. It boosts your credibility and the overall security of the PayPal network. 
Here is another explanation from the PayPal Help Page however the page has already been replaced. But I wanted to add it since it explains the principle behind this policy quite well. 

As PayPal verification is PayPal's process, please check with PayPal support about what other information they require from you, so that they will upgrade your PayPal account to Verified status.
Reference: What does it mean if a seller or buyer is Verified or Unverified?
2) My PayPal is already verified but I keep getting feedback that it is not on the Scribie page. 
The feedback that your account is not verified came from PayPal. We just query their server and that is the status they returned (that is one of the information you granted us access to when you Log In with PayPal on the Test page, that we check if the account is verified or not). They may just need additional information to fully verify your account.
So please contact PayPal support as they are the best people to help you with verifying your PayPal account, since PayPal account verification is PayPal's process. You may contact them through this link https://www.paypal.com/selfhelp/home. 
3) Is PayPal confirmation the same as PayPal verification?
The answer is no. PayPal confirmation pertains to confirming the email address you used to create your PayPal account while PayPal verification means PayPal has verified your identity.
Regarding the error message, 'This email address has not yet been confirmed. Please log in to your PayPal account and confirm your email address before continuing.' that appears on the PayPal.com page, please confirm your PayPal email address, as stated in the notification. About how to do that, below is the link to PayPal's help page addressing that question.
How do I confirm my email address?
After confirming your PayPal email, please go through PayPal's verification process so they will upgrade your PayPal account to Verified. Both of these processes are PayPal's processes so if you have questions about these, please contact PayPal support.
Once you have a PayPal account with verified status, then you can come back to Scribie and continue your application with us.
4) Is there a specific type of PayPal account I have to create?
The type of PayPal account, whether personal or business, does not matter to us as long as the PayPal account has a Verified status.
How to Verify your PayPal Account
PayPal has published several documents on how to verify your PayPal account. Two of them are detailed below.
Reference: How do I verify my PayPal account?
1) Add and Confirm a Credit Card
The figure below shows the 3 easy steps to verify your PayPal account.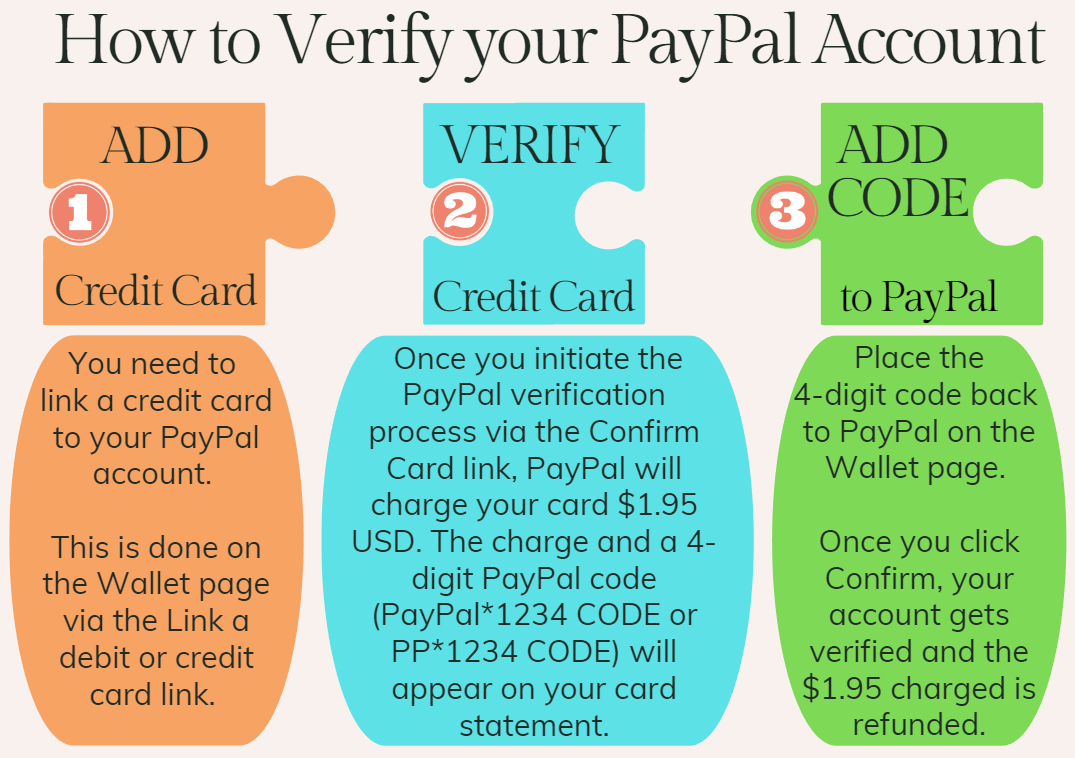 Usually, PayPal's verification process is as follows:
PayPal would need a credit card added to the account.

Once you initiate the PayPal verification process or card confirmation process, they will charge $1.95 USD to your card and the charge has a 4-digit code.

Once you place the 4-digit code back into PayPal, your account gets verified and the $1.95 amount charged is refunded.
References:
2) Add and Confirm a Bank Account
The figure below shows a summary of the steps required if you verify your PayPal account using a bank account.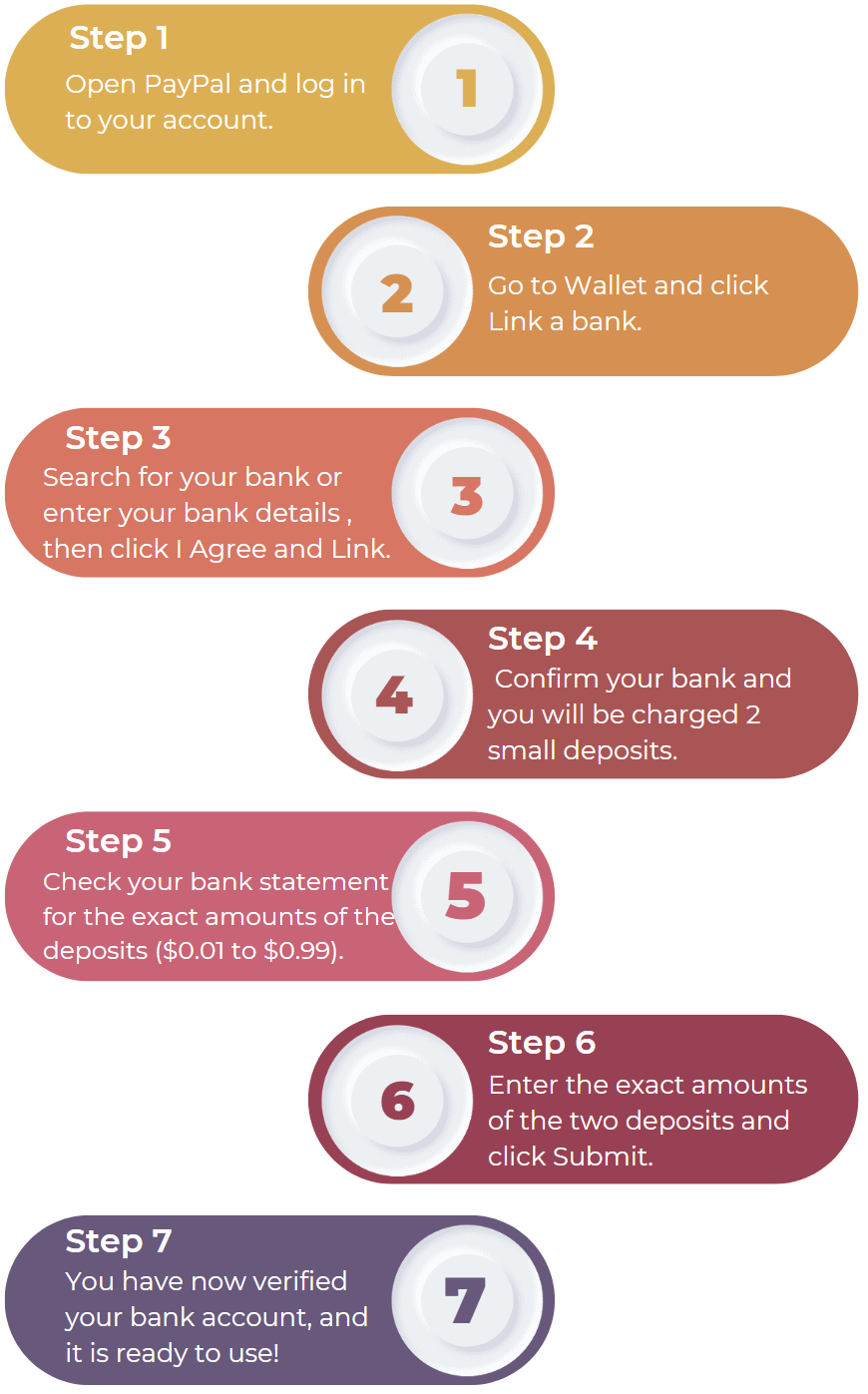 The process of verifying a bank account is similar to that of credit/debit cards. An additional factor is the deposits made by PayPal to your bank account. To verify the account, PayPal makes two deposits of random amounts, between $0.01 and $0.99. Once the deposits are made, PayPal will ask you to verify the transaction by entering the exact amounts of the deposits. Once the verification is done, PayPal reverses the transaction. Thus, your bank account has been verified.
Additional bank accounts require their own verification. It is important to note that PayPal can initiate a verification at any given time, especially if it detects unusual or large transactions being made. This policy varies from country to country and is used to detect fraud or tax evasion.
References:
Other Frequently Asked Questions
Other FAQs related to PayPal that some applicants have asked from us are detailed below.
1) Is it possible for two applicants to use the same PayPal account?
The answer is no, as this is not allowed. We do not accept a shared PayPal account so only one applicant can use one verified PayPal account. 
If a verified PayPal account is already linked to a Scribie account, once you try to add it to yours once you reach step 3 in the Certification Process, you will get the error message that states "The PayPal account is already in use by someone else at Scribie.".
2) I am getting the "PayPal already in use" error message but I cannot recall if I have opened an applicant account before. What should I do?
For this case, better check all the emails you use if any of them have received emails from support@scribie.com since we send confirmation emails to the emails used to sign up with us. 
If you cannot determine which one you used before, another way is to log in to your PayPal account and add or update your email address there. The link below shows the step-by-step process from the PayPal webpage. 
How do I add, remove or update an email address on my PayPal account?
3) Do I need a US bank account to apply?
The answer is no. The bank account you need to link to your PayPal account should be in the same country where you have opened your PayPal account.
4) Do I need to open a PayPal account in the US to be able to apply?
The answer is no. The reason why we are using PayPal is due to its wide availability, that it is available in 200+ countries. Thus you are not restricted to just using PayPal US, but rather the PayPal available in your country.
The link below shows in which countries PayPal is available and supported.
https://www.paypal.com/webapps/mpp/country-worldwide
5) I am from Pakistan, can I apply?
PayPal is not supported in Pakistan so you will not be able to proceed with your application unless you can secure a PayPal account with verified status.
6) I am from Nigeria, can I apply?
We do hire outside the US however you have to be in a country supported by PayPal. The feedback we got is that PayPal Nigeria only allows sending of funds, but not receiving of funds. So you will not be able to withdraw your earnings from Scribie to a Nigeria PayPal account.
Thus we suggest that you only apply once you have a verified PayPal account that allows receiving of funds. 
7) Will you be supporting other payment methods for transcribers?
We only support PayPal (available in 200+ countries) and adding additional payment methods is not in our roadmap at this time since there is no business need for it, i.e., the current arrangement is sufficient for our requirements.  
8) Can I change my PayPal account?
If you are not yet certified with us, we do not support changing the PayPal account associated with your Scribie applicant account. Only once you get certified with us that you can request a change in PayPal account.
9) Why do I need to provide my PayPal account even before taking the actual test?
This is to ensure that you have met the payment method requirement first before you take the actual test, since if your test submission passes and gets you certified, that test file is paid. 
By placing the addition of PayPal before taking the actual test, we avoid situations where an applicant submits a passing test file but will not be able to access his/her earnings because he/she finds out later that he/she cannot secure a verified PayPal account.