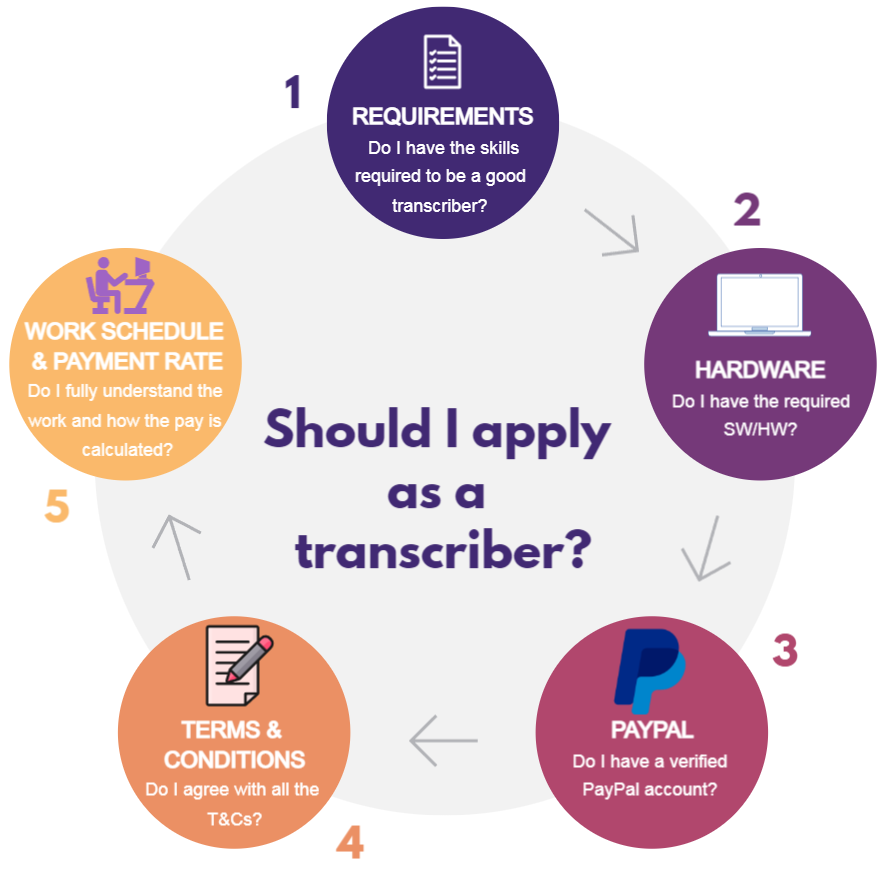 Many consider transcription as an easy job that anyone can easily do to earn extra income. There are many YouTube videos listing transcription as an easy typing job, an easy work-from-home job, and so on. Is this viewpoint or statement correct?
We would like to clarify that the term "easy" is relative and does not accurately describe the process of transcription and the skills required of a good transcriptionist. It is not as easy as some YouTube videos or other popular sources may claim. Please do not believe the hype.
I'd say it will only be "easy" if you already developed the skillset of a good transcriptionist. However, if you are relatively new in this industry, it will not be as easy as others claim. Please read on to find out why.
For an individual to become a successful transcriptionist, they must possess certain skills such as a great command or mastery of the language they are transcribing (English in our case), the ability to type audio quickly and accurately, strong listening skills, the ability to edit a transcript (and research as needed), and so on. Therefore, we would not qualify transcription as an easy task to complete.
Skills Required
So what are the skills required? The figure below shows the top skills required at Scribie to be a good transcriptionist/transcriber.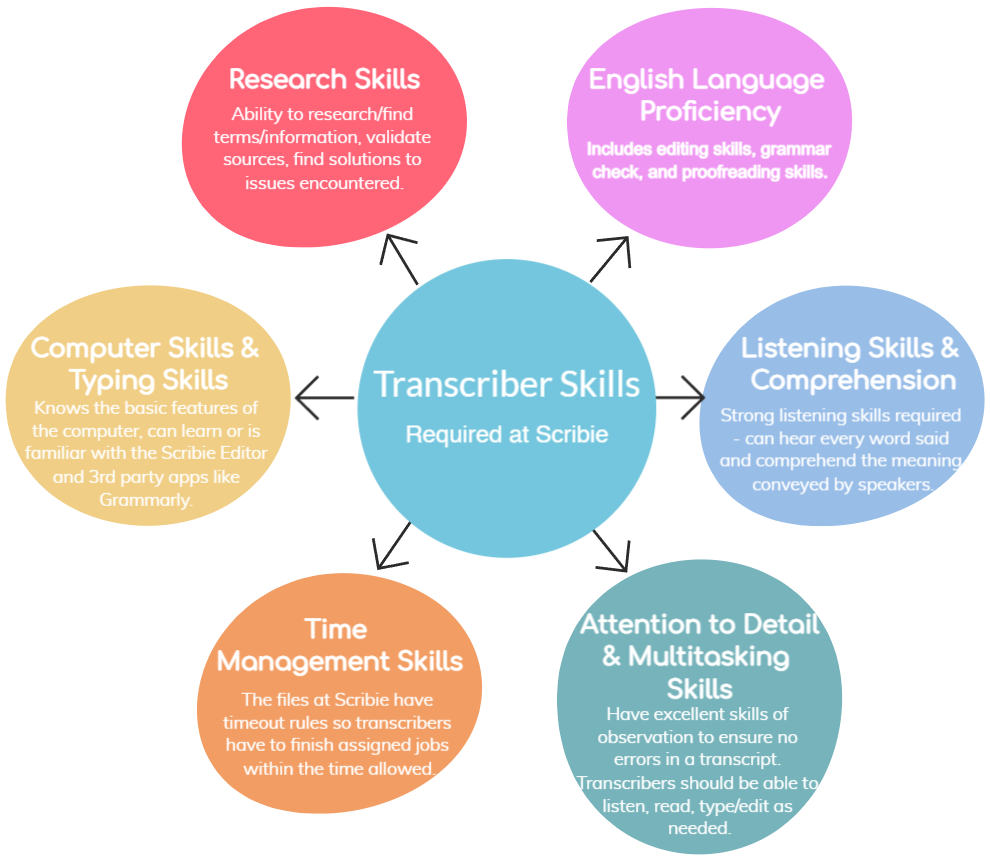 1) Language Skills (English Language Proficiency)
First, very good English language skills are a must. The required language skills include having a good comprehension of the English language, having the ability to interpret conversations and apply context and identify mistakes and correct them.
Fundamental to the language skills is of course knowledge of basic US English Grammar, Punctuation, and Capitalization. You also need to be familiar with the British, Australian, and Canadian spelling styles and the differences between them. Some references on these are the following:
https://www.grammarbook.com/grammar_rules.asp

https://www.grammarbook.com/punctuation_rules.asp

https://www.grammarbook.com/punctuation/capital.asp
In addition, you need to have basic knowledge and understanding of the following style guides. These references only apply to the American English spelling style. It is expected that you research and are familiar with the other spelling styles pertaining to British English, Australian English, and Canadian English.
AMA Manual Style, 11th edition (AMA)

Associated Press Stylebook, 56th edition (AP)

Publication Manual of the American Psychological Association, 7th edition (APA)

The Bluebook, 21st edition (Bluebook)

Chicago Manual of Style, 17th edition (CMOS)

MLA (Modern Language Association) Handbook, 9th edition (MLA)

The New York Times Manual of Style and Usage, 5th edition (NY Times)

Wikipedia Manual of Style (MOS:CT)
For the requirements above about the transcriber's English language proficiency, one paid test to see if your English proficiency is up to par is the IELTS, the band scale detailed in the following table. You should at least reach the level of 7-9 to be a very good transcriber/transcriptionist. A level 6 may only remain as a transcriber/reviewer with us, if one does not improve one's language skills. One with 5 of lower IELTS score most likely will NOT be able to pass the test.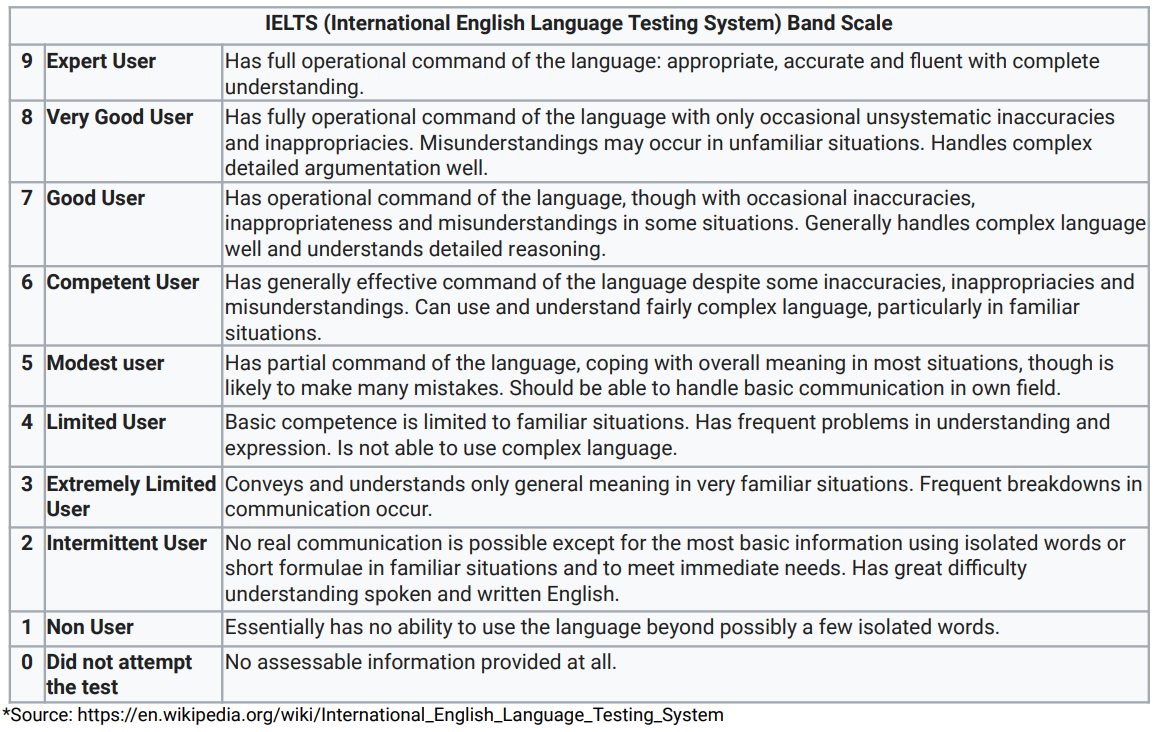 Included in the language skills are editing/proofreading skills, that is, the ability to read the transcript, identify mistakes/errors such as capitalization and punctuation errors, mishears, misspells, etc., compare the transcript against the audio, and correct any mistakes found. 
If you are adept at English grammar and proper words usage, can easily comprehend conversations, are familiar with the jargon of various industries, can identify mistakes and correct them, have an  IELTS score of 7 or higher, and are familiar with the various styles guides, then this may be for you.
2) Listening Skills and Comprehension
The language skills required also include not just reading comprehension but also strong listening skills. 
Comprehension refers to how capable you are of understanding the thoughts expressed by the speakers (what you hear and read). This is an important skill that a transcriber needs to have and to continue improving on as it directly impacts the accuracy of the transcript. Some of the ways to improve comprehension are by improving your vocabulary, using context clues, looking for the main idea, coming up with questions about the text you are reading, eliminating distractions, and many more.
A transcriber should also have strong listening skills or be able to actively listen, that is, hear all words spoken by speakers, and comprehend the meaning conveyed so as to be able to transcribe what is said accurately. Included in this skillset is the ability to track or differentiate the speakers.
3) Research Skills
To be able to transcribe accurately, a good transcriber should know how to do proper research, that is, find required information such as the correct spelling of speaker names, find the specific jargon or words/terms commonly used in various industries, validate sources/references found, and can find answers to questions or can find solutions to problems/issues encountered in the course of transcribing a file.
Not doing research while transcribing is a no-no. If you submit a file without researching the terms in it, that means you have not verified if you got the terms right. The exception of course is if you are already very familiar with the topic being discussed and know the correct spelling of all words used. However, even if you are familiar with the topic, research is still required in cases where the names were not spelled out in the audio, then you need to research to ensure that you spell the names and other file-specific details correctly.
4) Attention to Detail and Multitasking Skills
Attention to detail is a required skill for a transcriber since it shows how meticulous and observant you are, that is, you take into account all aspects such as following customer instructions and customer specifications, checking that there are no missing words/articles, letters, etc. ensuring that the transcript has no errors.
Multitasking is also a needed skill since you will be doing several tasks at the same time while you transcribe, that is, listening to the audio, reading the transcript, editing the transcript as needed, doing research if you are unsure, etc.
5) Time Management Skills
Time management is a necessary skill since a transcriber needs to complete a job/file within the allotted turnaround time, as the file times out otherwise. So a transcriber needs to plan, coordinate tasks, prioritize, organize, etc. to ensure completion of all needed checks and submit a high-quality job/file on time.
6) Computer Skills and Typing Skills 
It is mandatory for a transcriber to have basic computer skills. This includes familiarity with common applications such as word processing software, email management, OS, various browsers like Google Chrome, useful 3rd party apps like Grammarly, etc. A transcriber should also be able to learn the Scribie Editor as that is the tool we use at Scribie to transcribe files.
A transcriber (convert spoken audio into text) needs to have fast and accurate typing skills to be able to do this job well. A typing speed of 60-80 WPM (words per minute) is sufficient. If your typing speed is lower, some ways to improve include doing exercises, practicing, and taking classes.
Other Requirements
Aside from the skills listed above, the other necessary requirements to be able to apply include the following:
Laptop/desktop computer and internet connection

Headphone/headset

Latest version of Chrome or Firefox web browser
1) HW/SW Requirements
We require a laptop or desktop computer with a stable internet connection, plus a headset/headphone. We do not have any recommendations as to the brands of laptops or headsets/headphones to use. For the headset, as long as it helps you hear the audio more clearly then that will work. 
In case you are wondering if you can use a phone to transcribe or an iPad, the answer is no. The work requires you to do a lot of research so a phone or tablet is insufficient. We also have not tested the Editor to work with mobile versions of the browsers so these are not supported.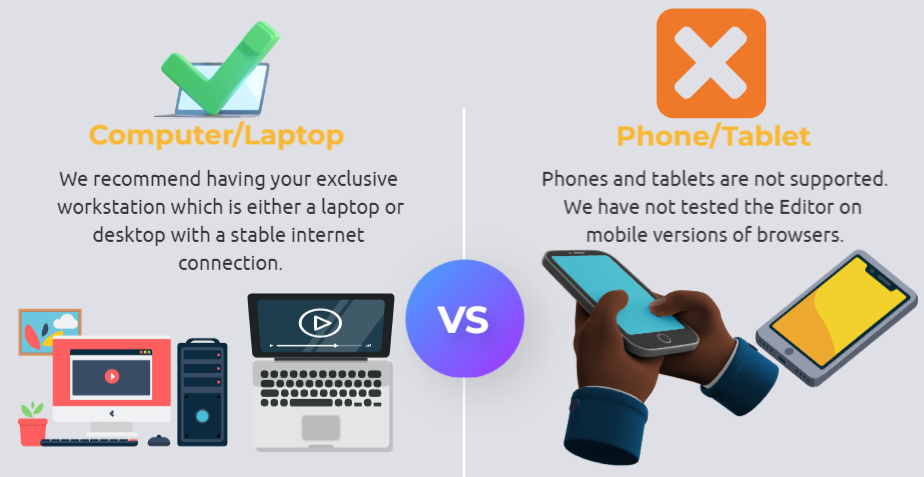 Can you share laptops with other applicants or transcribers at Scribie? This is one question we also get often and this setup is not recommended as you will appear as duplicates of each other. And having duplicate accounts can lead to account suspension. So we recommend that you apply only if you have a dedicated workstation (laptop or desktop).
2) PayPal Account with Verified Status
This is a mandatory requirement since we only support PayPal as a payment method. So please only apply if you have opened a PayPal account that can receive funds (some countries do not allow receiving of funds to their PayPal account), you have linked it to a bank account or credit card, PayPal has verified your identity (you have complied with the KYC requirements of PayPal), and that PayPal has upgraded your account to verified status. 
A verified PayPal account means that PayPal has verified your identity and that you own the financial details added to your account. So please complete those requirements first before applying with us.
Please do not contact Scribie support for PayPal account verification questions, but rather contact
PayPal support
as PayPal verification is PayPal's process and not Scribie's.
In a nutshell, here is a checklist to determine if you have the qualifications to apply:
Do you have a good comprehension of English?

Do you have the ability to interpret conversations?

Do you have the ability to apply context and identify mistakes and correct them?

Have you tested your English proficiency (through IELTS or similar tests) and got a high score?

Do you have a PayPal account with verified status?

Do you have a dedicated workstation (laptop/desktop computer)?

Do you have a stable internet connection with sufficient bandwidth?

Do you have a headphone/headset?

Have you installed the latest version of Chrome or Firefox web browser and know how to troubleshoot basic browser issues?

Are you able to do research for speaker names, terms/jargon in various topics/industries, etc.?

Do you have the ability to correct manual/automated transcripts (please note that this is not a typing-only job)?

Do you have basic knowledge and understanding of the usual Manual of Styles?

Are you familiar with the American, British, Australian, and Canadian spelling styles and the differences between them?

Are you able to follow instructions (customer instructions and transcriber guidelines)?
If you said no to any of the above questions, then this type of work may not be for you. Please only proceed and apply once you have met the requirements above.
Should I apply?
Once you have determined that you have the qualifications to apply, other considerations to keep in mind are the pay, the company's Terms and Conditions, and the nature of the work.
Please only apply once you have fully understood how the payment of files works at Scribie. 
After you have considered the pay and you are alright with it, please take the time to read through and understand the Terms and Conditions (https://scribie.com/help/transcriber-guide#terms) that you need to sign to start working with us. If you do not agree with any of the terms and conditions, please do not apply.
One last thing to consider is the nature of the work. The job opening at Scribie is only part-time freelance work and the availability of jobs/files depend on our workload. Our workload varies on a daily basis, thus, if you require something more stable and full-time, then this may not work for you. But if you like working freelance and just want to add one more avenue where you can work part-time as a freelance transcriber, then Scribie is a good option to add.
In summary, please consider all the aspects shown in the figure below before applying. We recommend to only apply if you answer YES to the 5 major questions in the figure below.