How often do you attend or host virtual meetings?
Nowadays, businesses have become so used to remote work that even virtual meetings are a common practice. Meetings held virtually can be cost-effective, as they can save you travel, hotel, venue rental, food expenses, etc.
Keep in mind that whether you are hosting or attending a virtual meeting, it is essential to be aware of the relevant etiquette.
Would it be better if the meeting lasted an hour? Are you taking any steps before your virtual meeting to ensure that it goes smoothly? How should you proceed after you have completed the meeting?
We're sharing some virtual meeting etiquettes and best practices that you should keep in mind for your next online meeting.
Preparation, During, and Post-Virtual Meeting Tips
Preparing for your call
A Meeting Should Have a Solid Purpose
To avoid giving the impression of "This meeting could have been an email," you should set a clear agenda for your meeting.
Before conducting a meeting, decide what topics will be discussed and what goals you wish to accomplish.
It also helps if you can determine how long your meeting will last. Sessions that last for an extended period can be time-consuming and are usually counterproductive.
Consider whether an hour is necessary or if it can be reduced. By doing this, you can save time and use it to accomplish more productive tasks.
Dress Appropriately
Consider dressing appropriately as if you were in a face-to-face meeting.
If it's a casual event, you may wear a company t-shirt if you have one. Put on something other than suit and sweatpants. You never know when you'll need to get up unexpectedly.
If you regularly work from home, there aren't many occasions where you can make yourself look as professional as possible, so virtual meetings are a perfect occasion.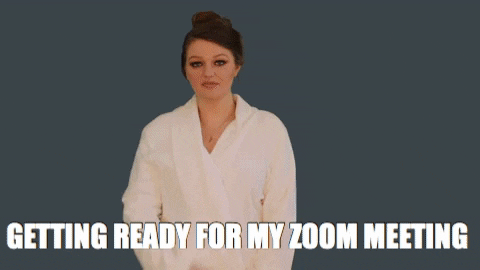 Test the Apps and Equipment You Will Be Using
If you are unfamiliar with the app, you may want to familiarize yourself with the interface in advance so that you can utilize its basic and advanced features.
You can blur your background to avoid distractions, add effects, or even record your meeting.
Make it a habit to test your microphone and speakers if they are working properly and hear your speaking voice to see if it's clear enough to be understood.
Don't forget to charge your devices or plug them in to avoid interrupting your meeting halfway.
During the Virtual Meeting
Don't Mumble. Speak Clearly.
Keep in mind that, whether you are speaking or taking part in the discussion, you must speak loudly and clearly so that everyone can hear and understand you.
Speak clearly, slowly, and with confidence to avoid stuttering. To avoid sounding monotonous, vary your pitch as you speak.
Whenever possible, use the participant's name when addressing them.
In addition to being courteous, it will also help with speaker identification, which will significantly benefit anyone transcribing the audio later on.
Excuse Yourself When Necessary
Just like in person, if you need to attend to an unavoidable concern while you're in a meeting, excuse yourself politely.
If you need to take a quick toilet break during the meeting, there's no need to bring your laptop or mobile phone with you. You can turn the camera off, but everyone will know your private business if you forget to mute the audio. Yikes!
Multitasking Is a Bad Idea
While your host may opt to record the video to have it transcribed and shared with the participants, later on, it's best to stay focused.
It's possible that you'll be distracted to do something else when you turn off your camera or mute your microphone online.
You should refrain from using your smartphone for personal reasons while you're in a meeting, including checking social media feeds, playing games, watching TV, listening to the radio, etc., even if no one can see what you're doing.
This emphasizes the value of having shorter, value-packed meetings.
Switch off all notifications on your computer and phone and set your status to Do Not Disturb to avoid distractions.
Having a productive discussion will help you move on to the next topic quickly and efficiently. If the discussion isn't relevant to you, try to decline such meetings in the future.
Record Your Meetings
Having someone record minutes is helpful when you're in charge of a meeting or just taking part. You can, however, record the session to save time and resources.
A number of popular communication tools, such as Skype and Zoom, offer call recording capabilities. If you plan to record the call, make the participants aware beforehand that the meeting will be recorded.
By recording your meetings, you can spend more time focusing on the discussion to ensure that you will not miss any critical information.
If you have your virtual meeting transcribed, you can share the transcript with participants later on.
Post-Session
Rest and Recharge
The process of organizing and attending meetings can be stressful, particularly if you are the one doing most of the talking. Be sure to stay hydrated and take time to rest between meetings.
Use a Reliable Transcription Service
If you have downloaded a recording, you can transcribe it yourself, assign a team member, or use a reputable transcription service.
Scribie offers manual and automated transcription services with fast turnaround times to meet your transcription needs while keeping your budget in mind.
Over To You
The trend toward remote work is likely to continue. With changes brought about by the pandemic, companies are adapting by utilizing virtual meetings to facilitate collaboration.
Take steps to make your online meetings engaging and accessible even after your session is over.
With Scribie, recording and creating transcripts of recorded meetings is easier than ever. Record and upload your audio file!