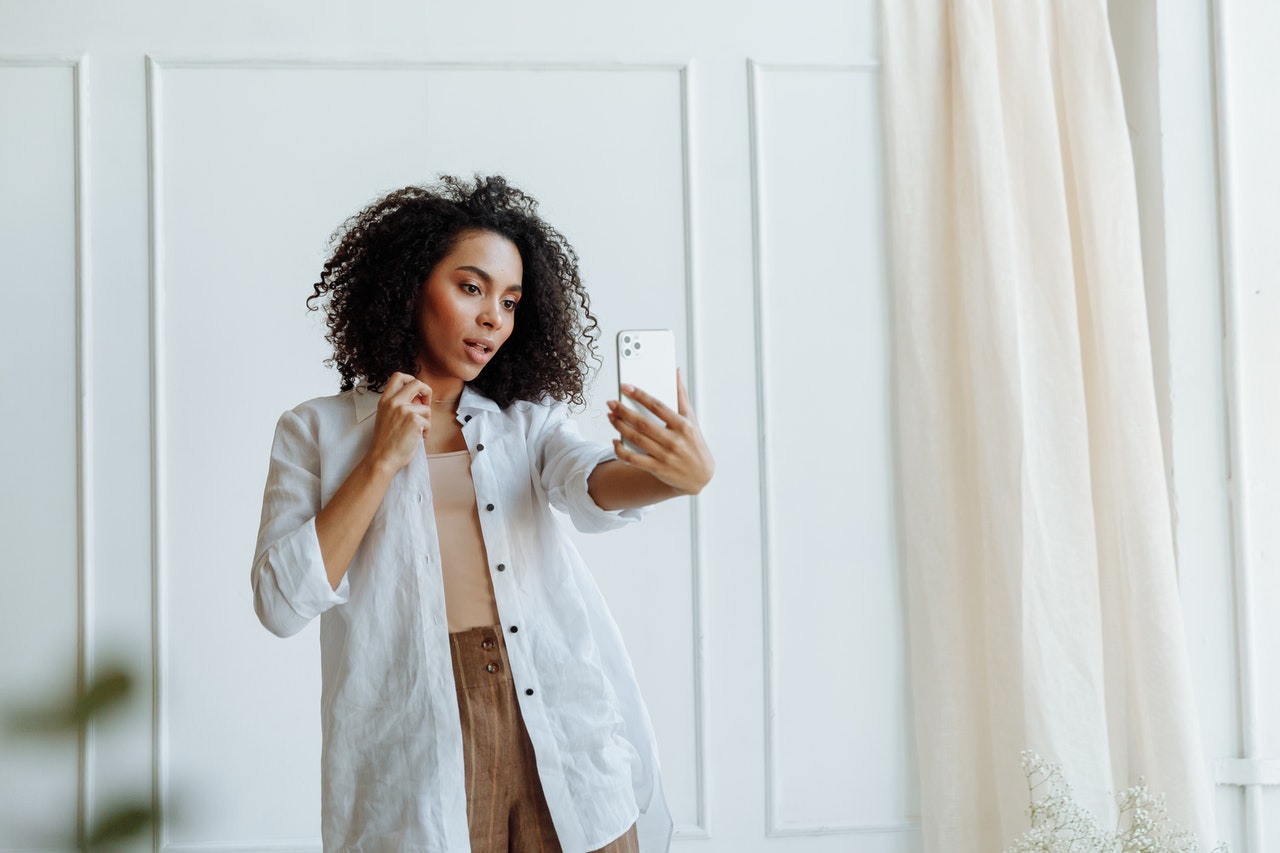 With over 100 million monthly active users in the United States, and the most downloaded app in 2020, TikTok is one of the trending social media platforms that content creators venture into.
While it's popular with teens, most users are young adults. With a significant number of users, you don't want to miss the opportunity to make your video stand out.
Are you a TikToker who would like to ensure that you're producing relevant and compelling TikTok videos?
Perhaps you own a business that is looking into ways to use TikTok to market your product?
If your answer is yes to either question, you need to make sure that your TikTok video is accessible to your audience.
In April 2021, TikTok released a feature to include auto-captions to its video. However, what options do you have when it's still not yet available on your end? Does it meet the accuracy you're looking for? What alternatives should you consider?
Read on as we list ways to create accessible content in TikTok and how Scribie can help you with your goal.
What is TikTok?
To give you an idea of how TikTok started, it's a tale of two apps.
Bytedance, owned by a Chinese company, released the video-sharing social app Douyin (which still exists in China) and released an international version, TikTok.
Most of the audience of TikTok initially followed Musical.ly, which Bytedance eventually purchased in 2018.
TikTok is a social media platform that allows its users to produce various short videos with different genres. It can be a comedy, dance, education, etc., which can run from 15 seconds to three minutes.
Users have the option to add various stickers, filters, and music backgrounds.
Tips in Creating Accessible TikTok Videos
Create Well-Thought-Out Video Content
Like any other content, it helps to have a story in mind on what you want to achieve. You can make use of the storyboard so that it will be easier for you to conceptualize.
Consider Your TikTok Format
The great thing about creating TikTok videos is the versatility in formatting the content at the tip of your fingers.
When formatting, consider the appropriate color contrast between the text and background so that people with low vision and color deficiencies can read your description well.
The most accessible color combination for text is black font with light- or white-colored background.
As for accessible font size and style, try choosing a Sans Serif font and opt for a readable size.
When considering where you will place the text, put it on top or in the middle of the video. Avoid putting it below, as it can be blocked by other text or menu bar.
Add Video Descriptions or Text-to-Speech
Video descriptions can help make your content accessible to your viewers regardless of if they have disabilities or prefer to watch in silence without having to miss the content.
Adding video descriptions can also be helpful for marketing purposes or when inviting your audience to engage. For example, announcing a contest, asking your audience questions, or including a funny caption.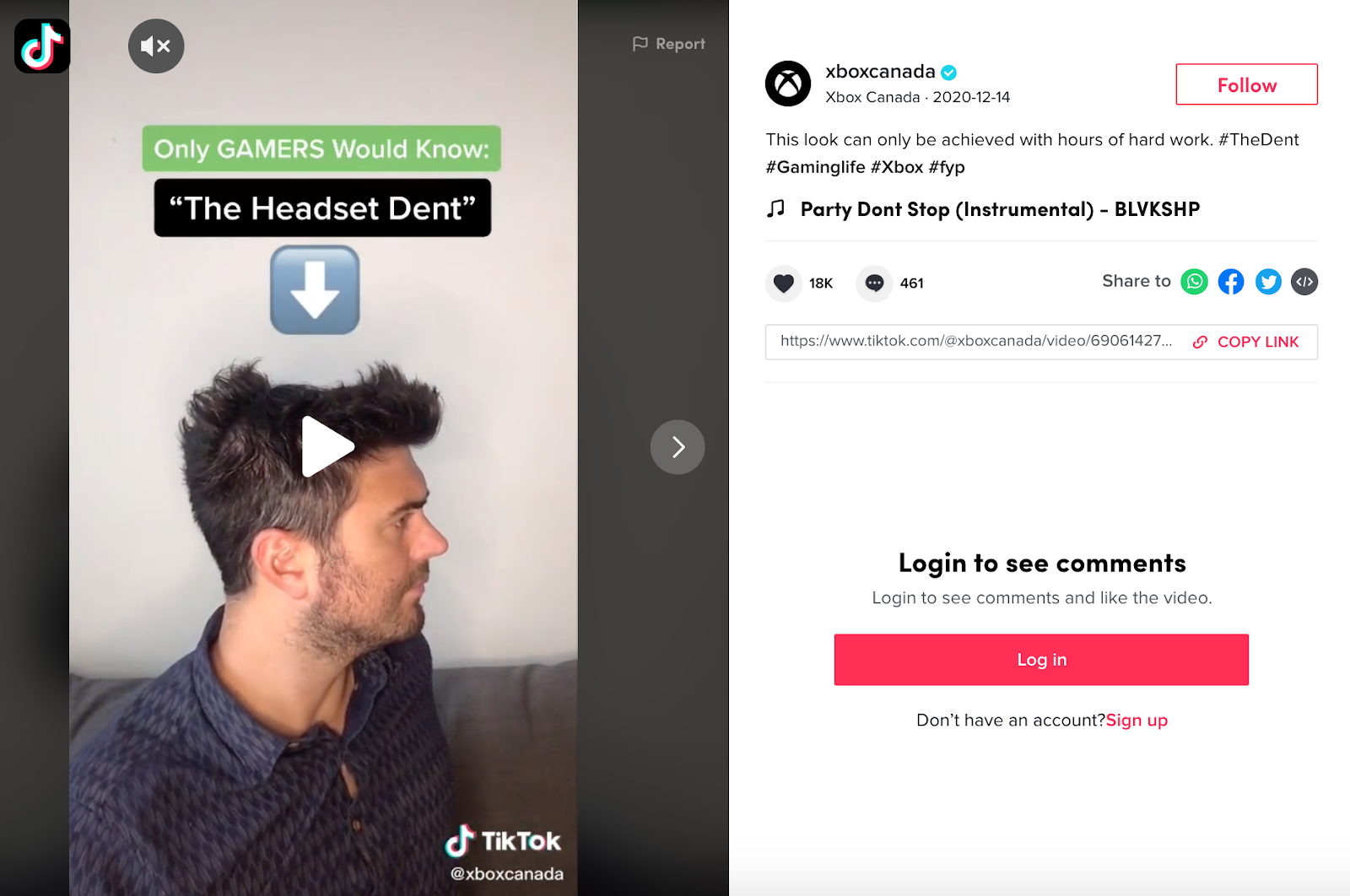 via iconosquare
TikTok's Text-to-Speech can make your captions more accessible than ever, which can be helpful for those with visual and reading impairments. It adds humor to your content too.
To add captions and include the Text to Speech function, do the following steps:
Record or upload your video.
Press the "Text" button.
Type your caption and press elsewhere on the screen to finish the text.
Click on the caption to set the duration that aligns with the audio.
Press and hold the text you just typed out.
Select "Text-to-Speech."
Use TikTok's Auto Caption
TikTok's new feature allows its users to include auto-captions in their videos.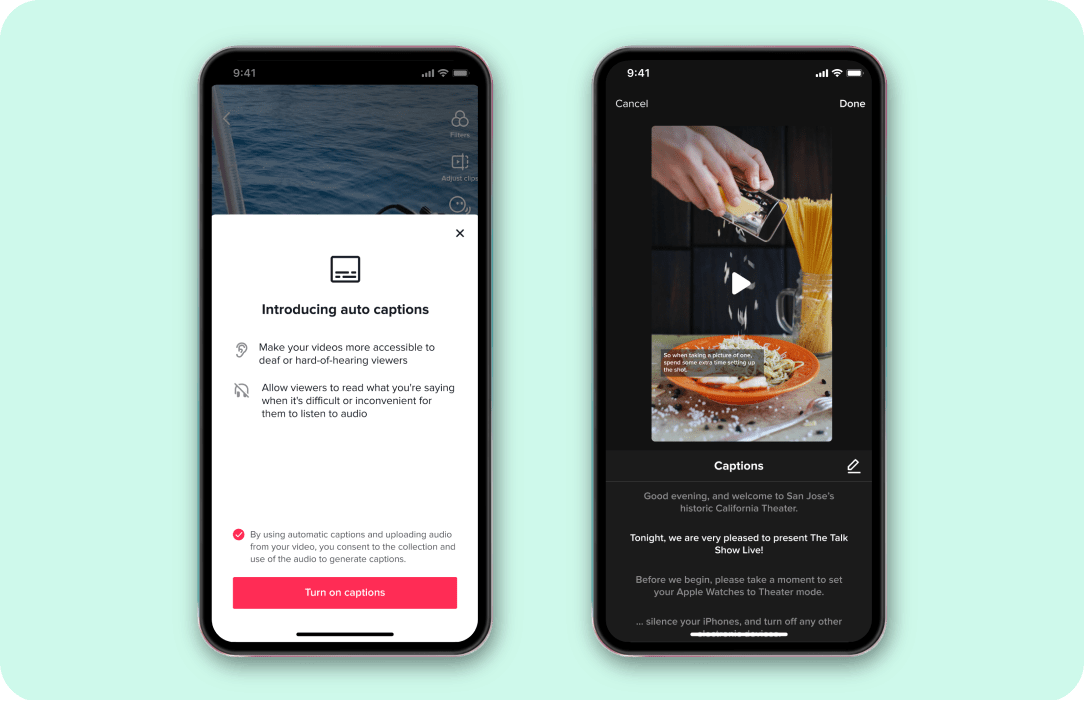 Via TikTok
There will be an option for creators to switch on auto-captions. When captions are available, the viewers will be able to read the transcript along with the video.
On the other hand, since it's a new feature, editing is still needed if you're aiming for accurate transcription.
Alternative Ways to Upload Accurate Transcriptions
Use a Professional Transcription Service
If you're looking to focus on creating content without worrying about including inaccurate transcripts, hiring a reliable transcription service is one of your best options.
You can record the video using your camera's built-in video recorder instead of TikTok's app. You can also download the TikTok videos you want to have transcribed.
You can upload your videos to Scribie and select whether you want automatic or manual transcripts.
For automated transcripts, you can expect them in less than 30 minutes. For manual transcripts, it may take longer as it's going to undergo our 4-step process to ensure accuracy.
Once you have the SRT or VTT File, you can use 3rd party apps like Kapwing or HandBrake to burn in the transcript to your video.
Use YouTube
Another option to make your TikTok video accessible with accurate transcripts is to upload the content on your YouTube channel and add captions.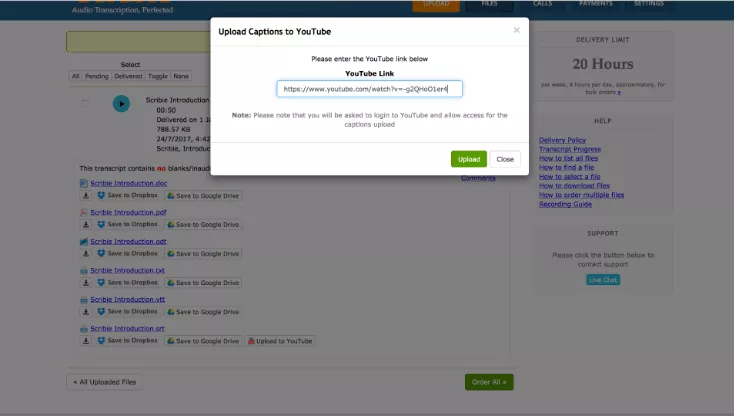 To order transcripts from Scribie, you can import your YouTube link or video file. Once the transcript is ready, click the "Save to YouTube" button to upload the captions to YouTube.
Over To You
TikTok, like other social media platforms, is looking into ways to make content accessible to its users.
As a content creator, you can jump-start the process of making accessible videos by adding captions to your TikTok videos.
Scribie can help you in removing barriers to increase accessibility for all your video and audio content.
Are you looking to provide accurate transcripts for your next TikTok video? Upload your video!