The COVID-19 pandemic is changing the landscape of how people conduct day to day communications. As movement control order is carried out from one country to another, everyone is engaging new means and ways to get used to the current circumstances. Forcing firms to take their work online, the idea of working at home is no longer just one of the options as most now rely on various online tools to communicate and carry out tasks.
This leads to a continuous increase in the number of calls done online. More likely than not, you're familiar with video calling services from Skype, Zoom, or Google Meet.
Sudden Surge of Online Calls
In the first quarter of the year, the number of users downloading teleconferencing apps jumped from 1.4 to 6.7 million according to Sensor Tower.  Corporate, government and educational institutions make use of conferencing tools as their main platforms for collaborative work, meetings, etc. Everyone is now drawn to the Internet looking for alternatives just to ensure continued productivity.
One of the most used apps is Zoom. It's not surprising why this platform's popularity has been growing. The product is easy to use and quality video calls have enticed rapid adoption.
At the time of writing, the platform offers free calls. Users have access to its features for 40 minutes and Zoom even lifted this limit for various scenarios. There is also no need to log in to join a meeting, which is a key feature that stands out among other conferencing tools.
Zoom's Current Security Issues
Alongside its popularity, Zoom's weaknesses are being revealed. Its vulnerabilities presented privacy and security issues. Among other challenges, unwelcome guests join conferences and supposedly private information tended to leak online. As a result, organizations have recently responded by banning the use of Zoom.
On the other hand, Skype has long been a top choice of millions of people from around the globe to make online calls. As those who use Zoom are now looking for a safer alternative, many continue to use Skype or for those who were mainly using Zoom finally switched to Skype to make one to one and group calls.
While the Zoom team is working on security issues, Skype remains to be a popular solution.
Skype's New Features and Transcription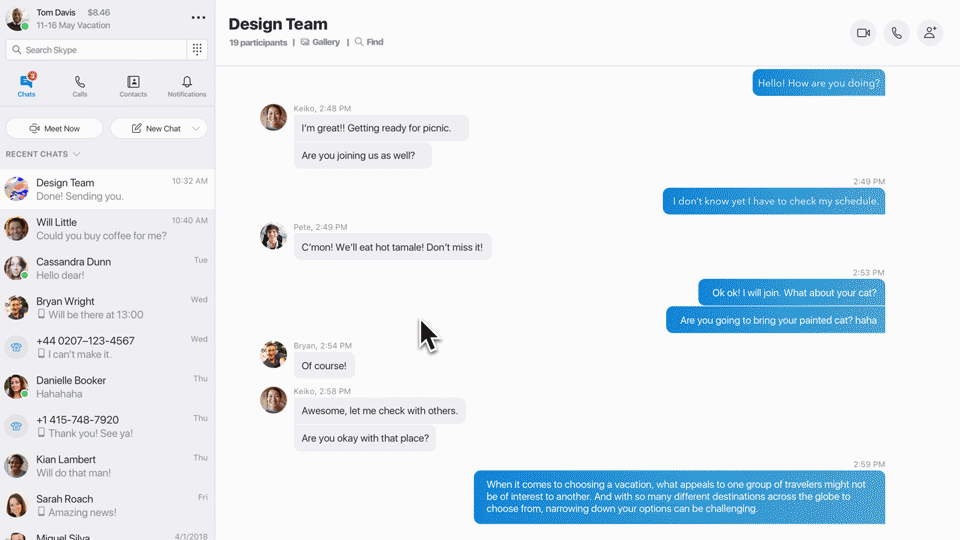 Skype has rolled its new features to better meet the needs of its users. They have introduced the new 'Meet Now'  feature which enables calls and collaborations even for those who do not have a Skype account.
You can start a meeting and invite even non-Skype users by just clicking the Meet Now

button. On top of this newly added feature is the previously launched transcription and translation in Skype Meeting Broadcast, which works real-time. This applies to recorded videos or just audio files.
More of your conversations, for professional and personal use cases, now happen through online calling services. Whether it be for documentation or to share valuable data in the written format, it is essential to transcribe Skype calls/conferences.
Get a written record, easily store, review, distribute and even repurpose your content.
For inspiration, here are just some of the use cases that especially need accurate transcripts:
Earnings calls
Market research
Online interviews
Analyst reports
Video subtitles and captions
The Accuracy of Skype's Real-Time Transcription
These days, live captioning services are available across platforms. Skype Meeting Broadcast happens to support this feature, which is an especially good addition for people with disabilities.  Skype's free, automated transcription can also suffice for non-critical use cases.
From a business perspective, the use of professional transcription services remains critical. Automated transcripts continue to lag behind in terms of accuracy. If you need highly accurate transcripts, you'll want to work with professionals.
In fact, Scribie uses a combination of manual and automated processes in order to produce your transcripts. Learn more about our accurate transcription process here.
How to Record Skype Calls and Get Accurate Transcripts
Recording your calls is easy nowadays. In the past, there used to be services like CallGraph. Now, you can take advantage of built-in recording tools.
Here is a step by step guide:
When on a Skype call, click "…" for more options.
Record your call on a desktop or mobile phone by clicking 'Start Recording'.
On desktop: Click "Start recording"
On mobile: Tap the " Start recording" button
A notification will appear to let everyone know that call is being recorded.
After the call, you can see the recorded file in your chat which will be available for download for 30 days.
Learn more from Skype's official documentation.
After the call, you'll want to download the recording as soon as you can. This way, you're able to secure the file and proceed with the next steps.
Since you'd like a written record of the Skype call, you can easily upload your file and order a transcript.
Over to You
As a proven and tested solution, you likely envision doing more calls on Skype moving forward. While they introduce more innovative features to adapt to the current demand surge, firms tend to conduct more business through this communication app.
Now, if you're doing Skype calls that need accurate transcripts, professional transcription services remain to be your best choice.
Ready to get high-quality transcripts? Upload your Skype recording here.