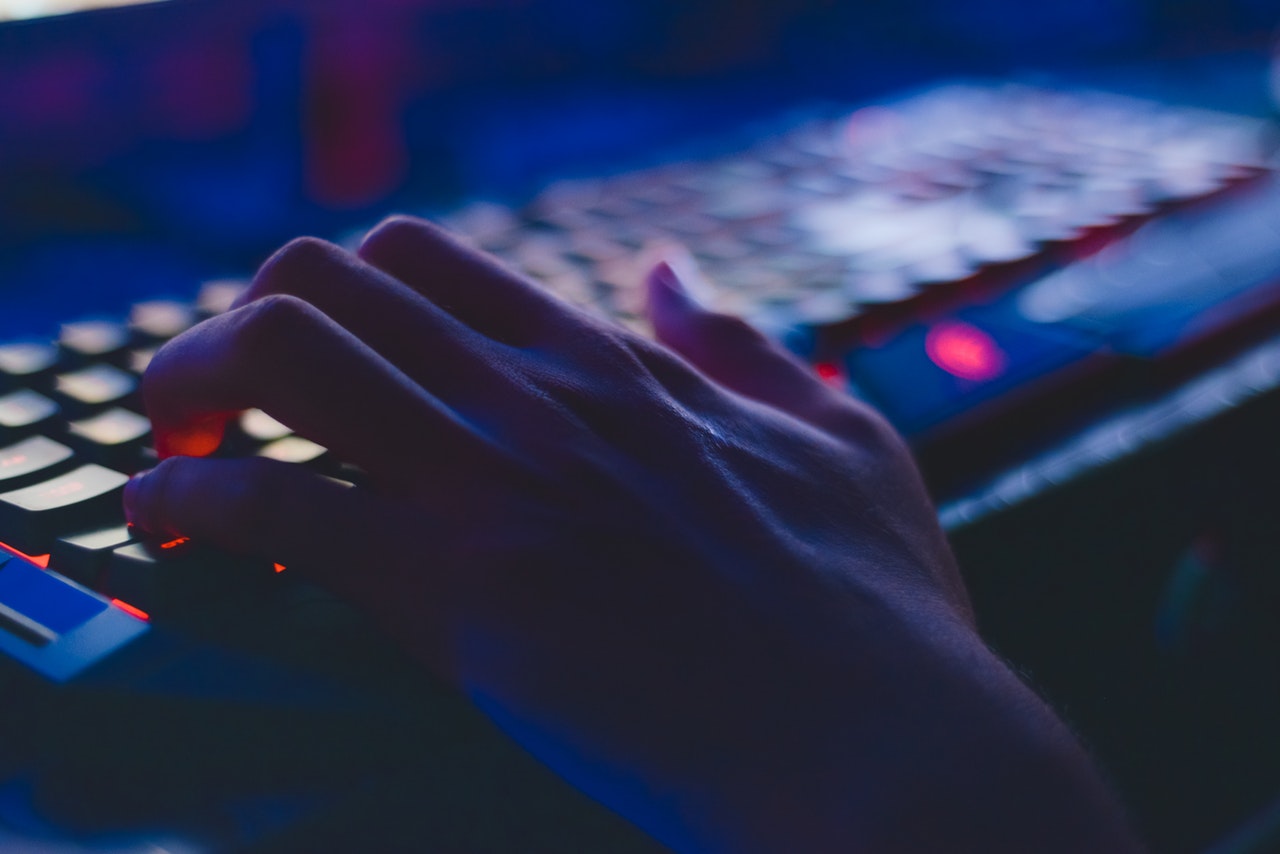 How do you choose the right transcription service?
Our customers tend to consider the cost, turnaround time, manual vs automated processes and more… Beyond all factors, you could be more interested in accuracy.
Considering your specific needs, who should you trust? Is Scribie the right provider for your use cases?
We'll break down your options and what you can expect from Scribie…
Technology has been rapidly evolving. For several use cases, we believe that automated transcripts can suit the purpose. Among your options, there's a newly released Pixel 4 smartphone from Google. The phone's Recorder app uses AI to transcribe your voice recordings though you'd want to think twice about its accuracy if the use case doesn't have room for errors.
Like us, a variety of vendors offer automated transcription services, which includes advantages in terms of turnaround times.
These apps and other new technologies enable and encourage you to record more meetings, lectures, voice memos, and more. They help you habitually capture any audio recording that you might want to reuse later.
We closely follow developments from technology players like Google, Apple, Amazon, and Microsoft. We also study transcription services that employ different manual processes and technologies. Keeping up with the latest and greatest allow us to keep moving and stay ahead.
Industries that need accurate transcription may not find apps like Pixel 4's Recorder to be sufficient. This is where high accuracy transcription comes in…
How do you choose the right service anyway?
Choosing a transcription provider has a lot to do with your use case. Each provider (like us) even offers multiple options depending on your audio file, desired output format, special configurations, and more.
Generally speaking, automated transcription shines if you require a fast turnaround. On the other hand, many use cases will require accuracy above all other factors.
If you want a quality transcript, you're looking for a service that can capture every single utterance and deliver it with 99.9% accuracy.
Scribie follows high standards in terms of transcription accuracy and overall service quality.
What kind of service should you rely on?
Manual and automated transcription have their own pros and cons.
Automated transcription provides conveniences like speed, but it can include grave errors.
Essentially, automated processes tend to lack abilities to understand the context, hindering them from making corrections.
Automated transcription can be good enough for mainstream and casual use, such as low-stakes YouTube videos.
It's speedy, inexpensive, and can be enough for non-sensitive use. However, you don't want the errors or lack of a Service Level Agreement to compromise your work if the use case happens to be more sensitive. This is a big deal.
To ensure quality service, we offer features like progress tracking and free re-reviews.
Manual transcription commits to producing high-quality text versions of your files (in the case of Scribie, with 99.9% accuracy). It is perfect for high-stakes and competitive industries that need error-free transcripts based on the professionalism that they require.
At Scribie, we focus on manual transcription. We can see how large companies like Google will take care of automated transcription for mainstream use cases.  We're focusing on producing highly accurate transcripts for teams, professionals, and enthusiasts who can't afford errors that are inevitable in automated transcripts.
Scribie's Four-Step Process
We're not new to this business. More than a decade ago, Scribie served customers with a two-step transcription process.
In 2010, we added proofreading as a third step to the whole process in an effort to provide high-quality transcripts for high-stakes industries.
The full, four-step process was introduced in 2013, adding the last step of quality check. We've been working on our process until we found that most of our files were meeting the accuracy level that we're looking for.
Scribie's big design goals were around high accuracy, consistency, and repeatability. This is a sophisticated system that is organized at scale.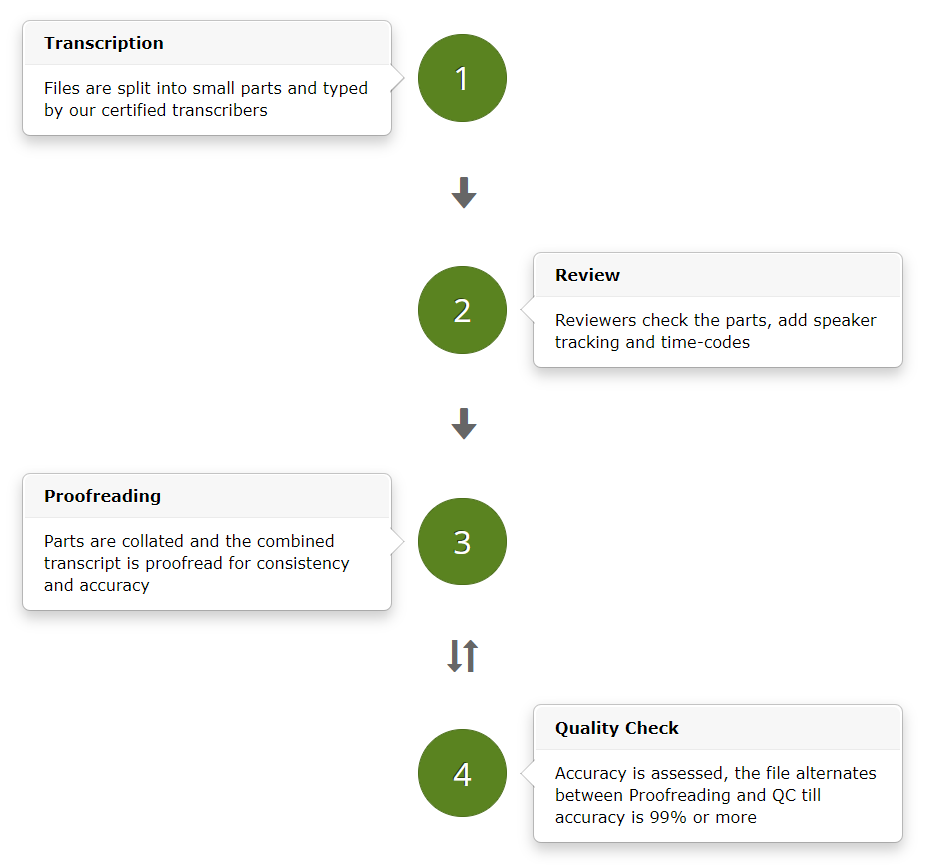 Here is how our four-step process works:
Transcription – We split the files into small parts which are consequently typed by our certified transcribers.
Review – Every written transcription undergoes a stringent review process where we check the parts, add speaker tracking and time codes.
Proofread – We collate the parts and proofread the combined transcript to ensure consistency and accuracy.
Quality Check – We check the file and proofread it again until there is 99% accuracy.
The four-step process allows us to correct errors that are not normally spotted in other services. Typically, a transcription provider just operates around a single- or two-step process.
While other services depend on trusting the transcriptionist, we systematically battle-test our files. We follow Linus' principle of "more eyes and ears make errors shallow".
As a result, earlier steps allow for more (inevitable) errors. As a file goes throughout the process, subsequent steps make further corrections. Each second of the audio is played eight times before we deliver the file to the customer.
Multiple professionals are involved in producing a single transcript. We have a unique grading system that tracks the major errors rather and automatically assigns the grade based on an algorithm. Therefore, each step is done by a higher skilled transcriber.
In other words, this sophisticated system ensures that you get a 99.9% accurate transcript.
What's next
It took years to develop our four-step process and we're not stopping there. It is actively evolving, particularly with the introduction of AI.
Our systems are continuously undergoing optimizations for accurate transcription and the good of our professional transcribers.
We're not sitting still…
Our #Transcripts2020 initiative has been up and running in order to contribute to speech recognition research (alongside other social contribution objectives)
We're building new structures that will enhance the effectivity of our four-step process
The product is positioned to focus more on high accuracy transcription needs
We are redesigning the user interface and the rollout is on track for early next year
As you might notice, these evolutions are designed around providing the best transcription experience for scenarios where there's no room for errors.
Over to you
We focus on serving organizations, enthusiasts, and professionals that require the best quality transcripts.
Typically, transcription providers only incorporate one to two steps in their QA process. However, our four-step process guarantees accuracy, speed, and greater privacy.
Scribie is the only video and audio transcription service that follows the four-step process to produce highly accurate and superior quality transcript.