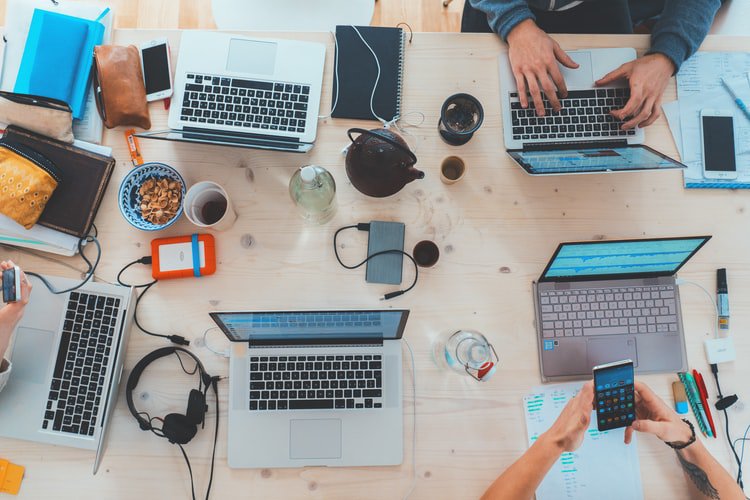 I am proud to share updates around the Scribie product and brand.
You might have noticed some visual changes and expect that more product upgrades are on the way.
For now, we're thrilled to feature Scribie's new logo, which you'll now find throughout the website:
Our intent and concept for this icon is to symbolize the people and dedication behind providing you with superior quality transcripts.
We wanted to highlight the act of Scribie's professional specialists listening to the file and producing an accurate, clean and crisp document. In the new logo, you'll notice an illustration of a document and headphones.
We've also changed the font of our logo to a more modern and humanist font. Let me expound below…
Superior Quality Transcripts & Improving the User Experience
Our redesign efforts are to better outwardly represent our values, beliefs, and commitment to ongoing improvement.
We make it a point to listen to our users and customers to incorporate suggestions for certain features and improvements as they are on the frontend of our service.
We still have more changes on the way, including a refined user interface, as well as new features that significantly improve how you generate transcripts online.
We want our logo to display the actual human care that goes into our work to ensure meeting our high standards of accuracy, quality, and speed.
So, we took everything into consideration to design a logo that holistically represents our values and beliefs, found in the Scribie Manifesto.
Our Values & Work
We believe that our customers deserve the best possible transcript, regardless of the file that we're supposed to work on.
We don't balk at the idea of redoing the file as many times as required to ensure the superior quality that meets our strictest standards.
We have a quality assurance process that we've exclusively formulated to help us meet our commitments. This is our Four-Step Transcription Process.
Usually, transcription providers only incorporate two steps in their QA process. However, our four-step process guarantees accuracy, speed, and greater privacy.
Here's how it works.
We split the file up into different parts, and then each part is reviewed simultaneously by certified transcribers/reviewers.
Afterward, the quality analysts–who are the best in the industry–review the accuracy level of the file. Only once the transcript meets our standard of 99% accuracy is it delivered. Otherwise, the file is again sent back for proofreading. This process will continue until it reaches our quality standard.
Our manifesto also revolves around our collaborators. We advocate fair compensation for transcribers. Our payment and systems have been built on this guiding principle.
You'll find our efforts to provide impactful value to our customers, colleagues, and the community inherent in our projects and initiatives.
Recently, we launched the #Transcripts2020 initiative to help make voter information become more available.
As part of the initiative, we're transcribing the 2020 presidential debates, major speeches, and other prepared statements by candidates, without any biased commentary.
These transcripts are available on the Scribie blog. While this information is free for the public, we're fully compensating our transcriptionists for their thoughtful work.
We also believe in providing our transcriptionists with the best tools and software. While automatic transcription is advancing, it will not replace our transcriptionists.
Scribie is a high-accuracy transcription provider and human work will always be part of this process. We are building technologies to assist humans rather than replace them.
This leads me to talk about the future of transcription as we evolve and innovate alongside advancing AI deep learning technology…
The Future of Transcription
Scribie has always been maximizing automated transcription using deep learning to assist in the transcription process. (Check out our blog post on continual learning and how we built and trained our large deep learning and AI model.)
For the uninitiated, Deep Learning is a subdomain of Machine Learning. It makes use of Artificial Neural Networks that, in a way, mimic the structure and function of the human brain.
While our technologies and processes assist our transcriptionists with reducing the word error rate (WER) in transcripts, machines still lack a human quality: human parity. We wrote more about this in Human vs. Machine: Should You Use a Manual or Automated Transcription Service?
There have been plenty of breakthroughs in accessibility, AI, and speech recognition software. However, it's unlikely that automation will reach the level of something we call Human Parity.
Human parity is a technical term describing how close AI is to humans in terms of performance.
For machines, it's difficult to understand the full context of your conversations. Fully-automated transcripts will always be more prone to error compared to manual transcription.
Image Source: Unilad
It's amusing to read about AI news lately, such as YouTube AI removing thousands of videos and mistaking robot wars as animal cruelty based on a limited set of indicators for video content restrictions.
Compared to machines, our manual-based transcription, on the other hand, by humans is more accurate because we are much better at discerning and recognizing the context of a conference call, webinar, podcast, or any kind of content.
Over to You
Are you in an industry that needs precise and accurate transcription services?
Scribie has always held accuracy, speed, and privacy as hallmarks of our services. We started this service in 2008 with the aim of building a system which can reliably and securely produce high-quality transcripts
With our newly redesigned logo, we hope to better reflect the humanism, innovation, dedication, hard work, and precision involved in our signature professionalism.
We value both our customers and transcribers and strive to continue finding ways to improve your experience.
Got feature requests? Help inform our product roadmap. Send us your feedback.