Track Your Transcript In Real-Time With Scribie
Track Your Transcript In Real-Time With Scribie
Ever faced a communication black hole?
Let me explain.
You come across a service provider who seems responsible, eagerly answers all your questions, and promptly replies to your emails. You are impressed enough to give him the job. But then something changes, and your super-responsive provider goes silent until one fine morning when you see your work delivered. You are not very happy with the final product and recommend a few changes, but nope that's not possible because your provider informs that revisions are not a part of the contract. Now you are stuck with a bad provider, an unsatisfactory product, and an empty wallet.
Sounds familiar? We know.
That's why Scribie has introduced three new features that give you the controls. You can monitor the transcription process, keep a tab on its progress and leave a comment about your experience. How cool is that? Here is what you need to know:
Progress Meter: This is kind of self-explanatory. It serves as a reference point and lets you check the progress of a transcription. For instance, you can see files that are say, 98 percent complete. The number changes to 100 as the work is finished. It gives you the peace of mind to know that your job is being worked upon and you also get an idea of when to expect the final product.
Draft Transcript: You can find this tab just beside the Progress Meter. Click on it to see the transcript. You can even download the draft if you want. This feature is very useful in case of a good quality audio file. For transcriptions that are 100 percent complete, the Draft Transcript button changes to the Check and Download option. You have the option to download the transcribed file in Word, PDF, Open Document Text or Plain Text formats. However, you don't have to accept the file yet. If you are not satisfied, you can request a re-review, which we do free of any extra charge.
Add Comment: This is the feedback section. Let us know what you think. Share your experience and suggestions.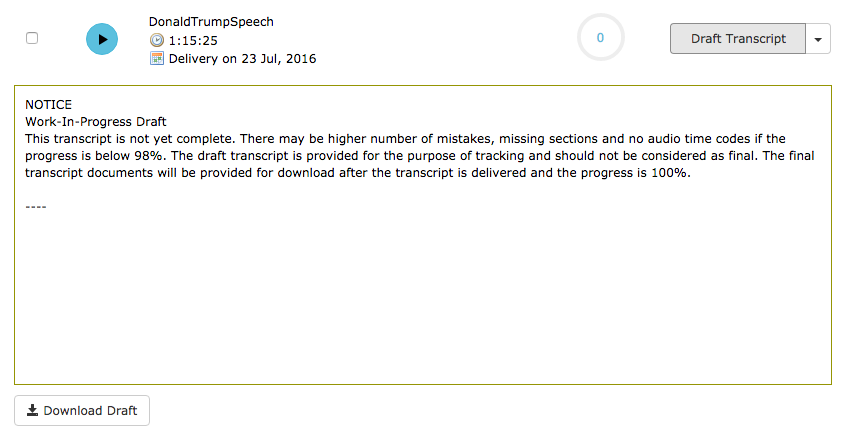 We at Scribie are always trying to enrich our client's experience, and these new features are an attempt in that direction. If you have not tried our transcription service yet, you got to try it. Start uploading now!