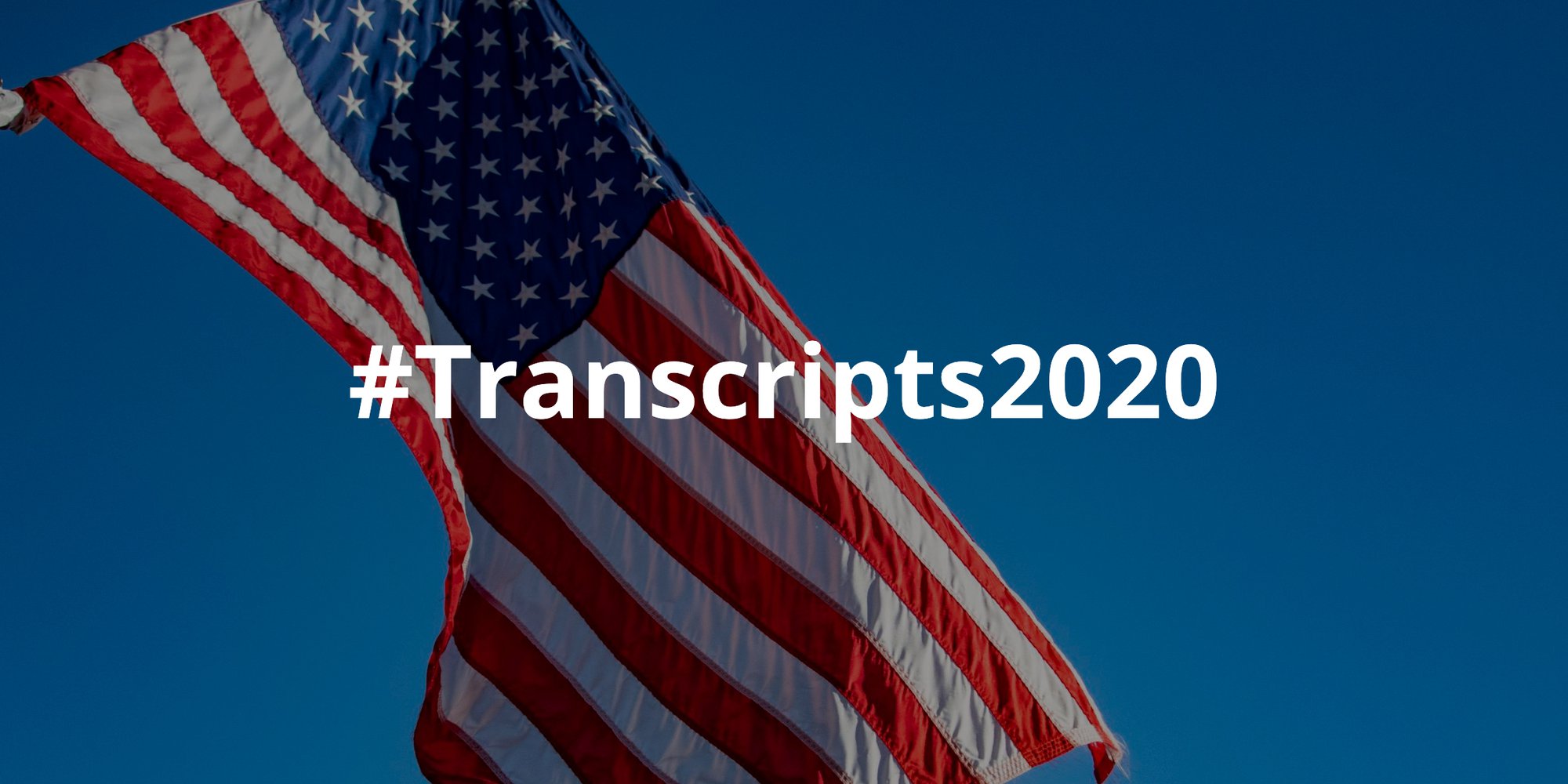 On this 4th of July 2019, we set out to commemorate the anniversary of the United States' Declaration of Independence.
As the elections are approaching, be informed and exercise your right to vote.
Scribie is pleased to announce our #Transcripts2020 project. The upcoming US presidential elections are scheduled for Tuesday, November 3, 2020, and we want to help voter information become freely available.
Scribie's #Transcripts2020 is a free transcription and social learning project.
We're transcribing the presidential debates, as well as major speeches, and other prepared statements. Without any biased commentary, we provide the full transcript so you understand the complete context of what was said. And with all of our transcriptions, we maintain a 99% accuracy guarantee.
These transcripts are publicly available on Scribie's blog and can be downloaded in various file formats as soon as the day after the event.
Also, in addition to #Transcripts2020's transcription for the 2020 presidential elections, we want to help improve AI and speech recognition research. The entire bulk of the data set will be released to the public in open source MIT license once the elections are over.
We're open sourcing the data set as our way of giving back to the community.
By the end of the elections, we expect to produce a data set with around 300 hours of content. You'll be able to download the audio and text from Scribie's #Transcripts2020 for your academic research or the advancement of machine learning and speech recognition.
Take note: Scribie does not endorse or condone any position regarding any political candidate, group, or cause. Our aim is to accurately transcribe historical facts and make these available for public record–free from partisanship and commentary.
Why We're Doing #Transcripts2020
We are in the business of creating accurate records. In today's age, when misinformation spreads faster than ever, our purpose has become more essential.
The upcoming 2020 presidential elections are a great opportunity for us to serve this purpose.
As a leading transcription service provider, flawless transcripts and fast turnaround time are the hallmarks of Scribie. So, we're making important statements by 2020 presidential candidates more accessible to the public as a contribution towards social awareness and nation-building.
Scribie's signature Four-Step Transcription Process guarantees superior quality word-for-word transcripts that are highly accurate, minimizing any chance of transcriptionist bias. We believe that it is our duty to ensure that the accuracy is superior and that the public receives the best possible transcript.
Most providers only have a single- or two-step process, which means transcription is determined by one or two individuals.
Scribie's rigorous Four-Step Process, on the other hand, involves multiple QA specialists. This meritocratic quality assurance system ensures 99% or higher accuracy, reducing any chance of bias from individual transcribers.
The #Transcripts2020 initiative aids the flow of unadulterated information to U.S. citizens, academics, journalists, political analysts, historians, researchers, and the general public.
We believe this is important because many of today's online resources, including leading publications, no longer offer the full transcript, instead, opting for out-of-context pull quotes which often change the original message.
You can check in on Scribie's blog immediately after an event for a complete record. (We typically publish debate transcripts the day afterward.)
Use Scribie's online resource to catch up on our blog or download your own text copy as a file for repurposing, writing a report, political analysis, voter information, or others.
Upcoming Events
Here are some of the upcoming events that we intend to transcribe.
There are six primary Democratic debates in 2019. In case you missed it, the first set of Democratic primary debates were held in June. (Transcripts for the June 26th and June 27th debates are now online.)
The next debates will be held on July 30th and 31st in Detroit, Michigan. On September 12-13 are the third democratic primary debates. The fourth, fifth, and sixth debates are scheduled on the succeeding months, October, November, and December.
We intend to publish the transcripts after the debates, notable speeches, and other prepared statements.
Advancing Machine Learning and AI
As the primaries continue, we'll head the #Transcripts2020 project to provide you with transcripts of debates and other important prepared statements until the election.
After the completion of the project, we'll release a free and open source dataset that compiles the associated audio and transcripts. This is to push forward the advancement of machine learning and academic research.
Through our #Transcripts2020 efforts, we'll have approximately 300 hours of transcribed audio for machine learning purposes.
A decent, free data set of this proportion is hard to come by and should be extremely useful for researchers.
For the meantime, if you're interested in a particular transcript, you can already download publicly available transcripts and audio files by clicking on the editor link.
Over to You
#Transcripts2020 will cover primary debates, speeches, major conferences, and other relevant prepared statements by election frontrunners according to polls.
For this initiative, we're devoting up to 2% of Scribie's operating capacity. While this is pro bono work, Scribie's transcriptionist will be paid as usual. We want to provide our transcribers with a work environment that fosters their success and growth.
At this early stage, you can expect the mechanics of the #Transcripts2020 project to evolve. We welcome your support. You may reach out to us at support@scribie.com if you have any feedback.