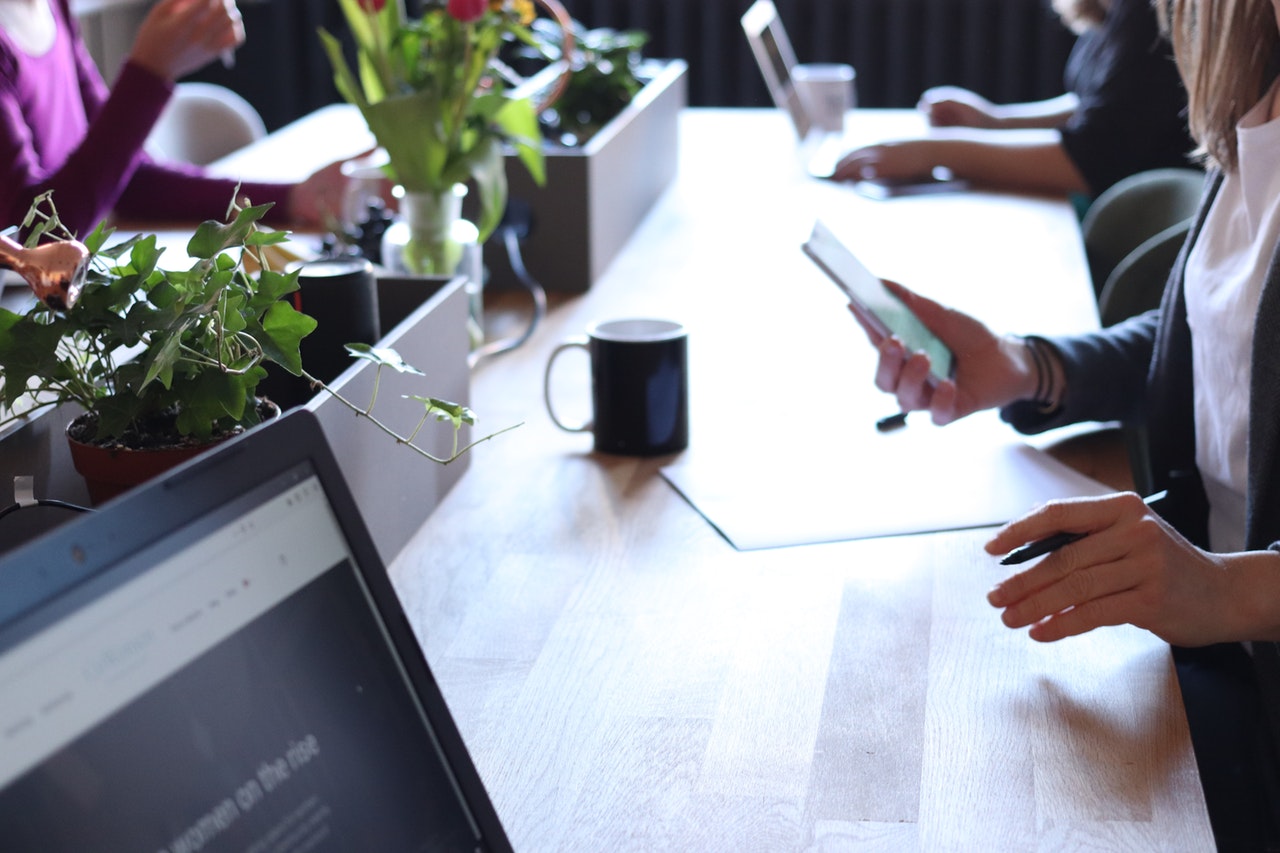 Purchasing decisions and processes aren't always easy.
Especially if you are in a bigger organization, you might find yourself too busy chasing budget approvals, inspiring your procurement department, and waiting for other teams to move forward.
In this article, we will go through some vital tips and Scribie features that will save you from having to chase corporate approvals.
With these universally applicable purchasing tips, we aim to help you focus on your actual work instead of navigating corporate processes all day.
Most companies would prepare an annual budget plan, which becomes their guidebook for all their financial decisions. Alongside this plan, budget owners and purchasing officers are accountable for resource allocation, savings and other financial key performance indicators.
The Budget Approval Process
Here's a typical budget approval scenario…
Budget Consolidation – In corporations large enough to have departments, your managers are responsible for preparing their own budget which are consolidated by the finance staff to create a whole budget.
Review by the Finance Staff – The finance staff conducts an initial review of the budget to make sure the budget is reasonable and workable.
Review by Top Management – The top management looks into the consolidated budget and check whether they are in line with the goals of the company.
Discussion with Division Managers – Top management may meet with division managers, including the finance staff to get a better understanding of the budget proposal.
You'll notice that these financial activities are typically tedious for bigger organizations. Naturally, every budget owner aims to control their spending. If a vendor isn't strongly justified, it's easier to cut it out of the resource allocation.
Hopefully, your organization empowers you to swiftly make purchasing decisions. At any rate, we reckon that you'll find these tips below useful.
Purchasing and team collaboration tips
Present alternatives
When advocating for a purchase, you want to show your options to stakeholders or budget owners. This may involve your purchasing department or your manager.
It's typical for procurement teams to compare multiple purchasing options. Present Scribie's competitive transcription fees alongside any alternative that you might be considering.
Vendor comparisons allow your stakeholders to see how you've done your research.
Emphasize key purchasing factors
When advocating a purchasing decision, you'll want to highlight the thought process. Whether you're ordering office equipment, software, or online services; inform your choice by highlighting key decision factors.
For transcription services you're likely looking at these key considerations:
Cost and payment options
Turnaround time
Confidentiality
Knowing these needs, we've designed Scribie to be the most compelling option for businesses. Along with competitive pricing, we support major credit and debit cards, Paypal, and even invoicing.
Our trademark four-step process ensures 99% transcription accuracy. Also, thanks to this system, no single person views or accesses the complete contents and context of your file, ensuring confidentiality.
"I was kept informed of each step of the process, which I like very much. The transcripts were surprisingly accurate and professional and the price was plenty modest." – Varick Chittenden
Highlight your preferred option
It helps to highlight how your preferred transcription service fares in terms of the most important feature according to your needs.
Depending on your particular use case, you might want to cherry pick the service provider that wins in terms of accuracy, enabling your purchasing decision makers to make the best move for the business.
How Scribie makes purchasing easier for businesses
With Scribie's Account Credits, we help minimize your budget approval housekeeping work.
This feature allows you to load funds in advance to your Scribie account.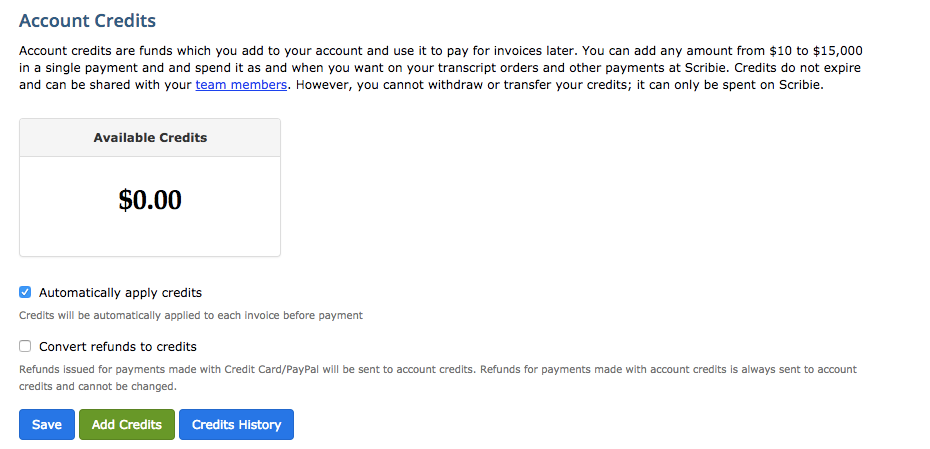 You can load in advance anywhere from $10 to $15,000, which you can use to pay for manual transcription orders or any other payments on Scribie.
This option is very convenient as it allows employees to keep ordering as long as credits are available. It also helps that Scribie's transcription rates tend to be more accessible.
Account credits can be shared with team members so anyone in your team can order more transcripts anytime without undergoing another budget approval ordeal.
There is no expiration for the credits, which means that you can use them anytime you want.
To add credits, simply click the Add Credits button and enter the amount. This should lead you to the invoice page where your credit card will be charged accordingly.  Upon successful payment, the credits will show up in your account immediately.
Easy Team Collaboration
On top of credits, it helps that you can use Scribie's Group Accounts/Teams feature for your organization. This gives your colleagues and procurement officers access to the company's Scribie account and centralized billing.

Each Team member will be given individual login credentials and will have full access to your account and vice versa. They can also upload files, order transcripts, or check past transcription orders.
Note that the payment method added by the first Team member will be shared with everyone else in the Team. This way, new Team members are ready to order.
To add, Team members will get account notifications. This feature allows you to share your files securely with another teammate without sharing your own login credentials.
To add/manage team members simply access the settings page. You can add as many teammates as needed to your Scribie Team.
Over to You
We've built features like Team Accounts and Credits in order to support the typical organization's buying processes and considerations.
For any purchasing need, we hope that you'll take advantage of the tips above including the use of Credits and highlighting your key buying decision factors
If you have an existing Scribie account, access your Account Credits page and consider loading up your account in order to save trips to the procurement department.
New to Scribie? Test our industry-leading transcription services. Upload an audio/video file today.