The Curious Case of Changed Rankings – Scribie vs Rev on TechRadar
The Curious Case of Changed Rankings – Scribie vs Rev on TechRadar
We always admired TechRadar as an unbiased, ethical and good tech news publisher. But this all changed recently when they changed their ranking of transcription services without any explanation.   
TechRadar had published an article on December 3rd, 2021 titled as "Best Transcription Services of 2022". Scribie got well deserved #1 ranking in their article. This was an independent review and no one at Scribie had participated. Needless to say, this was a pleasant surprise for team and we shared it with everyone including investors.   
But then in the 1st week of March, 2022 Scribie was replaced by Rev at the number#1 spot in the same article with absolutely no change in the content and without any explanation. Just the ranking was flipped. 
TechRadar on December 3rd 2021 :  https://web.archive.org/web/20220201073001/https://www.techradar.com/best/best-transcription-services
Same article on March 6th 2022 with Ranking edits :
https://www.techradar.com/best/best-transcription-services
The way this article was changed leaves a lot of questions unanswered. 
Why was it changed retroactively? 
Was there any pressure or influence from anyone? 
What changed in a month that led to this reshuffle? 
Why did this reshuffle affect only Scribie and Rev and no other companies on that list? 
There were no major changes at our end and our service has remained more or less the same. What did Rev change that they were able to jump ahead of Scribie in a month? As to our knowledge there were no major changes at Rev in this interim as well. 
Based on these facts, we believe that this is a clear case of journalistic malpractice. We did not expect that TechRadar being a reputed global tech publication would allow something like this to happen. We all know Rev has a history of being unfair to their transcribers and competitors. 
In addition, Rev have also misrepresented Scribie's pricing on their homepage since 2019 to make us look highly priced in comparison.
Scribie's actual rates since 2019: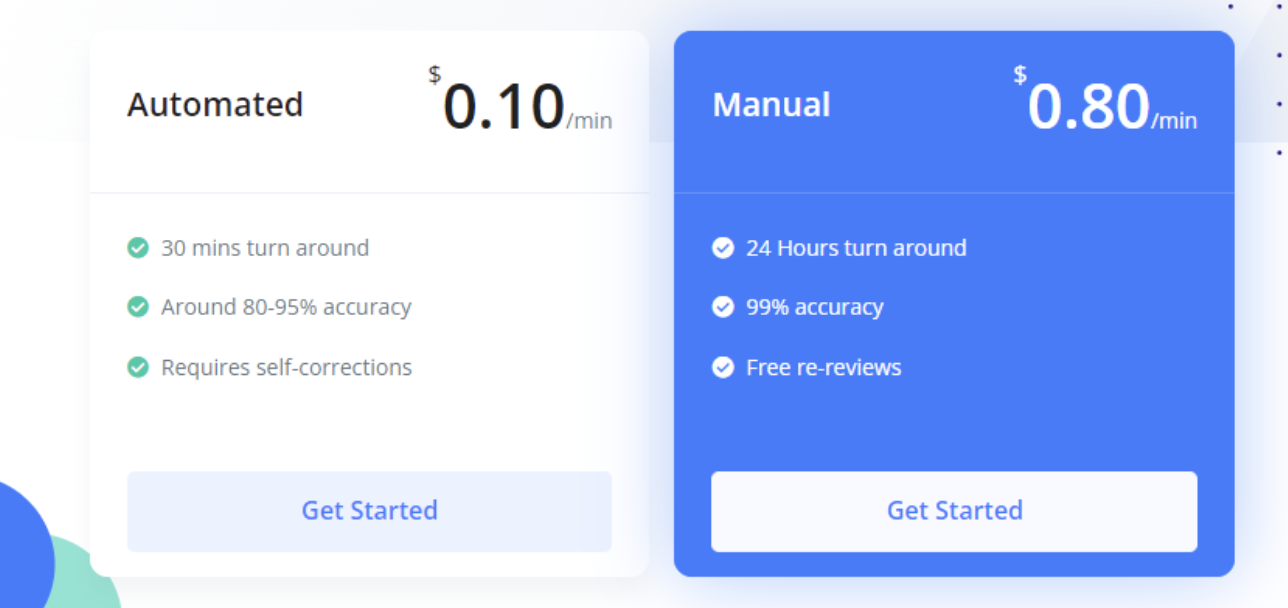 We believe that Scribie deserves an explanation for this. This impacts our brand and we are taking this very seriously!
We and our team of transcribers were very proud that we were ranked number one on our own strengths in an independent review. We have mentioned it in our social media, told our customers and even highlighted it to prospective investors. Now the ranking on the article has been changed without any explanation and it appears that we are lying about it, whereas the fact remains that we were actually rated as number one when we wrote about it on our blog and shared it on our social media channels. 
Scribie is a bootstrapped company and very small compared to Rev and TechRadar. We have very limited resources and most of our business comes through word of mouth, customer referrals and online search. This incident will obviously make a dent on our business. 
It is unfortunate that companies with much bigger resources than us resort to such unethical tactics to compete. We at Scribie always believe in competing fairly and on the inherent strength of our technology, products and service. We have never promoted or resorted to such gimmicks as this to gain business. 
This should serve as a warning to all bootstrapped startups who compete with Goliaths.
We are exploring legal action, but we need your help in spreading the news. This should not go unnoticed. Please share this article to your networks, we don't want any other startup to become a victim just like us.