Scribie vs. Temi: Which Transcription Service is Best for You This 2022?
Scribie vs. Temi: Which Transcription Service is Best for You This 2022?
Choosing the right service can be overwhelming with the growing number of transcription services.
An automated transcription may be the best choice if you need fast and straightforward results.
When your business demands a high degree of accuracy, you might want to consider manual transcription.
In this case, you'd want a transcription service that offers both.
Temi provides automatic transcription services with the speed necessary to ensure timely delivery.
We all want our audio and video files transcribed accurately and at a reasonable cost, but is Temi up to the task?
Let's see how Scribie compares to Temi for your transcription needs.
Accuracy
Scribie offers two types of transcription that will fit any business needs – manual and automatic transcription.
If quality is an indispensable subject for your business, Scribie lives to its goal of providing accurate transcripts.
You can expect an 80-95% accuracy rate with our automated transcriptions. The Four-Step Process we employ for our manual transcriptions allows us to achieve +99% accuracy.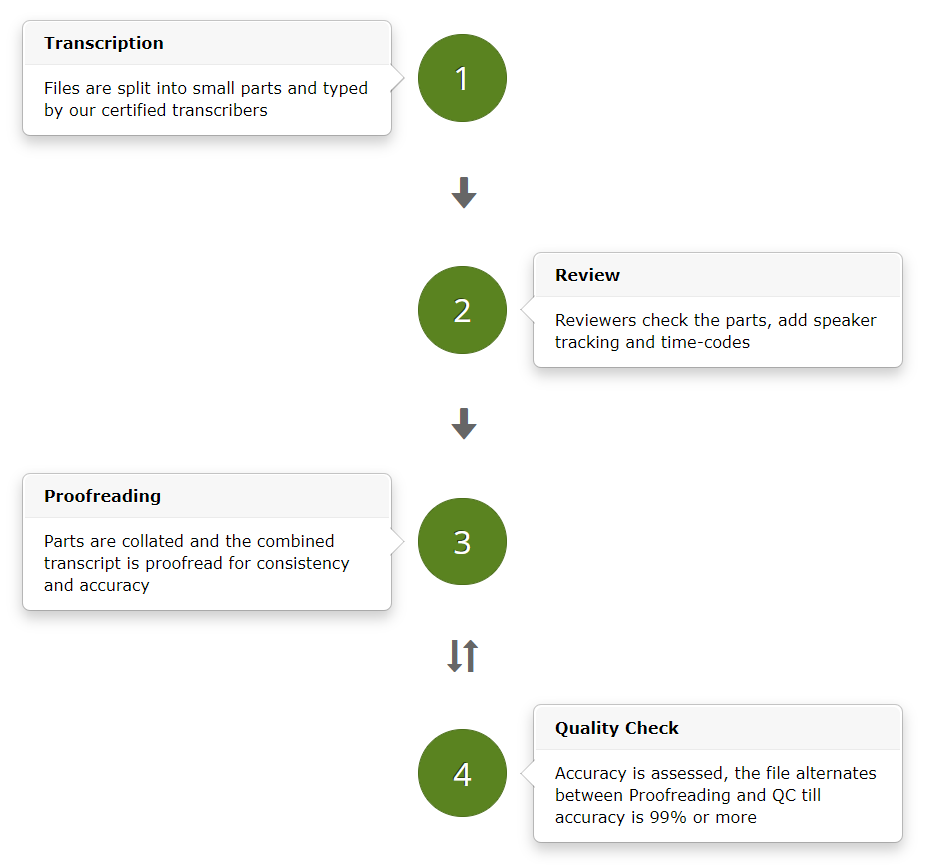 We at Scribie never compromise accuracy. That's why in cases when the transcription file does not meet customer expectations, we don't only provide free re-reviews, they also come with credits that you can use to pay for future orders.
Temi specializes in automated transcriptions. If you need manual transcription, you will need to switch to its affiliate, Rev, or look for other services that offer this service.
While automatic transcriptions can give you faster results, the accuracy may not be as smooth as you expected.
Artificial intelligence may transcribe words differently than what was said. The accuracy of the transcript depends on the quality of the audio/video file.
Of course, you can review the transcript as the first draft is rarely the final version. Unless you have experience editing transcription, you might find it a tedious task, especially for recordings of long meetings.
What they say about Temi:
"Temi is inexpensive and does offer useful mobile apps, but sometimes it's not very accurate. Simply put, if your recording or audio file is complex or the sound is iffy, Temi is not a great option. However, if you only plan to use Temi for casual work, or on very clear recordings, it may be worth a look." – PC Mag
What they say about Scribie:
"When you choose a transcription service, accuracy is the primary metric you should use to make your decision. Scribie gets high marks in that category. It also now features streamlined pricing tiers, and its formerly free automated transcription service remains a good deal." – PC Mag
Pricing
Temi is now more expensive than it used to be when it only charged $0.10 per minute.
Currently, Temi charges $0.25 per audio minute.
They offer a free trial for your first transcript up to 45 minutes in length.
Temi:
5-minute recording (5 minutes x $0.25) = $1.25
2-hour video (120 minutes x $0.25) = $30
Scribie:
5-minute recording (5 minutes x $0.10) = $0.50
2-hour video (120 minutes x $0.10) = $12
Scribie starts at $0.10 per audio minute for automated transcription and $0.80 per audio minute for manual transcription.
On top of it, you can get free extra credits when you add $500 or more Account Credits.
You can use these account credits to pay for automated or manual transcript orders.
To add, it's best to visit the pricing page for the latest and detailed info.
Billing
Both Temi and Scribie accept major credit cards and PayPal.
Scribie currently supports invoice billing, whereas Temi does not.
With over a decade of experience in the industry, we are capable and comfortable handling bulk transcriptions.
On top of handling bulk orders, we allow you to collaborate with your members by sharing your Account Credits.
They can order and approve the files while you focus on other tasks. Just keep in mind that credits are not refundable or transferable.
Confidentiality and Privacy
When looking for a reliable and trustworthy transcription service, you'd want to steer away from services that do not offer a Non-Disclosure Agreement (NDA).
Look for a service that can guarantee that your data is protected.
Being among our core values, we are committed to providing the highest level of confidentiality and privacy.
Keeping the confidentiality of personal information is a priority for us, and we conduct our business according to these principles.
Additionally, Scribie operates by following a four-step process (as described earlier) that helps ensure confidentiality. This means that no transcriptionist has access to the entire file.
Don't Take Our Word for It
Learn more about what Scribie customers have to say:
"Service was faster than expected. Error rate was less than 1%. I am very impressed. I will call on you again. A great value at price. I have worked with news networks that use the expensive services out of New York. Your service is equal or better." – Ron Blome, Ron Blome Productions
"We are very happy with the speed, the assurance that the transcripts are being reviewed by a supervisor and the ability to review exactly where content is indiscernible so that we can fill in the blanks with the "check and download" option. We are constantly requiring transcription services and are thrilled to be using Scribie". – Teri Bowers, Institute for Rapid Resolution Therapy
Over To You
Transcription services enable you to get tasks done while focusing on other essential aspects of your business.
Consider transcription services that offer the best of both worlds and assure you will receive quality work.
In any case, if the transcription service you choose ultimately creates more work for you, you might want to consider other options.
The Scribie team values your time and knows the value of accurate transcription for your business. At Scribie, you'll find an experienced transcription partner you can trust.
Have a recording you need to be transcribed? Upload your file today to receive a high-quality transcript.