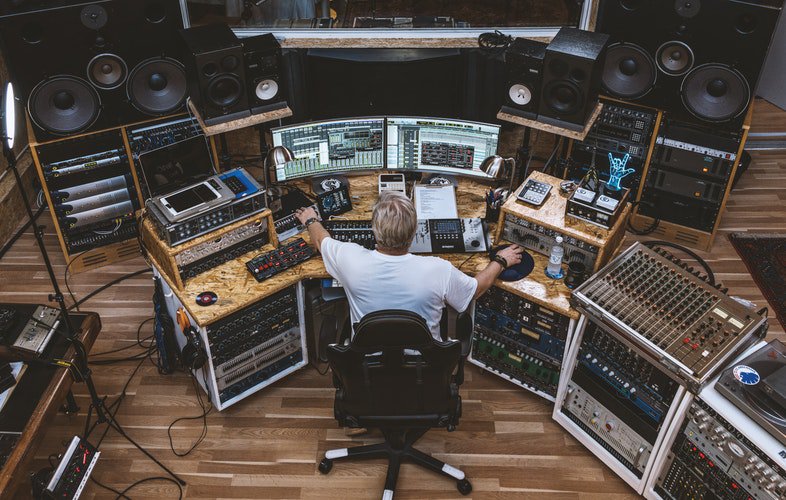 For all filmmakers, videographers, and video enthusiasts, it's the perfect time to reach more people with your artistic vision, discipline, and love for the craft.
The viewing habits of your audiences are changing, along with greater demands for accessibility and compelling storytelling. Videos are moving beyond theaters and TVs and are being consumed in all kinds of environments and on different devices. Captions are now becoming a requirement and indicator of good, quality production.
It's unsurprising that video streaming sites like Netflix, Hulu, Ustream, and others are gaining popularity as one of the fastest growing industries. That includes the recently announced and highly-anticipated Disney Plus.
Many pop culture references even describe this generation's competitive workforce as made up of any of these three words: Coffee, Netflix, (and also, tears).
As you make it easier for viewers to enjoy and consume your films, they may not realize that before a movie is created, it has to go under 3 basic process – pre-production, production, post-production. They only see the final product, which is the movie.
If we review your process, pre-production involves all the planning from the script, auditions, scouting of locations, and others. Production is when the actual shooting happens. While the most important and longest process is post-production.
Depending on the scale and budget, your film or movie production time can vary from days to years!
Regardless of how small or big a production company is, you can make the life of your post-production team, especially your videographers, easier with the use of post-production transcripts.
These essential transcripts speed up video editing and captioning. Find out how you can maximize the use of transcripts for video production and distribution, as well as useful resources for choosing the right transcription and captioning provider.
What is a post-production transcript?
Post-production transcription is a word-for-word, shot-by-shot, minute-by-minute account of a film, video or documentary – and it's 100% accurate. Transcription is usually outsourced. Some big scale production companies delegate this task to in-house teams, but due to lack of experience, the quality of work is often affected.
One reason many video producers use transcripts is so that referencing lines or sections from the script becomes easier through written timecodes and timestamps.
Note: To save time and money, you may schedule transcription work after production. Why? Imagine you're in the middle of production. Big, impromptu script changes were made, and a chunk of dialogue gets deleted. Your original script practically becomes irrelevant in post-production, and a post-production transcript, a lifesaver.
Why Videographers/Film Directors Use Video Transcripts
What are the benefits of a video transcript?
If you've seen the 2015 version of Mad Max: Fury Road, it's surprising that this 120-minute film had up to 480 hours of raw footage! (You've probably had your share of drowning in raw footage.)
In this case, the video editor had to condense unedited material into a 120-minute feature film.
Source: VashiVisuals
Working on a film without a transcript to guide your video editing ups the difficulty level past 'Normal' and 'Hard', to 'Harder than Hard'.
If you haven't considered prioritizing transcripts to simplify the post-production process, here are a few benefits:
#1: Translate your film to a different language with ease.
Did you know that English is only the 3rd top language in the world? There is a high likelihood that your work will undergo translation for distribution and accessibility to a wider, international audience. In other parts of the world, they may speak Mandarin Chinese, Spanish, Hindi, and Arabic as their first language.
A transcript helps your translator quickly and efficiently finalize the translation.
#2: Use timecodes and timestamps to save time.
A timecode (alternatively, time code) is a sequence of numeric codes generated at regular intervals by a timing synchronization system. Timecode is used in video production, show control and other application which require temporal coordination or logging of recording or actions.
Timecodes are used as reference points for video editing. Your editors can work more efficiently with the use of transcriptions, especially if it has timestamps synchronized with the timecodes in the original video.
Through transcription, it saves your editor time from switching between viewing and editing footage.
#3: Skip ahead for revisions.
You don't have to watch and rewatch scenes to find parts for revision.
Save valuable time and effort looking for the sections that need editing. A transcript on hand allows you to browse through timecodes and dialogue to see exactly when and where you need to skip ahead to perform the needed edits.
It's also easier to make creative decisions seeing the entire work in text.
#4: Use video transcripts to add captions.
Nowadays, captions and subtitles are a must. They're pretty much a prerequisite for video streaming sites and determine your video's success when sharing on most platforms.
Here's why captions matter.
"When it comes to watch time, subtitled videos increase view time by more than 12% and are watched an average 91% to completion. In comparison, videos without subtitles are only watched 66% to completion. When subtitles are included, 80% more people watch videos to completion."
i watch netflix n hulu with captions, always

— ❄️Gia Renée (@envvyg) April 15, 2019
You can request closed captioning services from an established transcription company. With a good transcript in a compatible file format, you can add captions in as little as one step by directly uploading them to your platform. Just see how simple it is to caption videos for any social platform.
What are your options?
Now that you've learned the benefits of transcription for your post-production team, you can consider the following options for transcription.
DIY your transcripts.
If your crew has spare time and is confident in their transcription skills, you might consider doing this in-house.
However, this method can be tedious and time-consuming. Most likely, expect DIY transcription to take a long time and the context switching can be quite taxing. You'd rather focus on your core duties.
Depending on the size and expertise of your crew (and if your video transcription needs are low-volume), this is a good option.
Seek to get help if your hours of footage make DIY efforts cumbersome.
Use automated transcription.
Compared to DIY transcripts, using a video/audio software can aid in your transcriptions. Plus, it's more cost-efficient than ordering text from a professional service.
However, there is a downside. Speech-to-text (STT) software accuracy can be unreliable, and often the output won't make sense. In the end, you'll most likely still have to manually correct and edit many errors.
Hire video transcription services.
As in the previously mentioned options, you can create your own online video transcript or use STT software to save money. However, take note that transcription takes time, while software accuracy is unreliable.
There is a fast, low-cost, and easy way to order accurate transcripts online for every video you produce. The process for ordering transcripts from video transcription services is quite seamless, too. With a few clicks on transcription sites, like Scribie, and a few hours after, you get your transcript.
Professional transcriptionists and QA teams with in-depth experience offer you accurate and reliable transcriptioning and closed captioning services.
Over To You
Video transcription can provide unbelievable convenience and value for saving your time and money when producing videos.
If you're swamped and lack the time or people to transcribe for you, a smart choice is delegating this task to a professional or transcription service. Here are some key considerations for selecting the right service for your filmmaking needs.
Ordering a transcript online is a helpful hack for accurate documentation of your footage. You can use transcripts as a reference during editing and for quickly adding captions to your videos.