Scribie Audio Transcription Software
Scribie Audio Transcription Software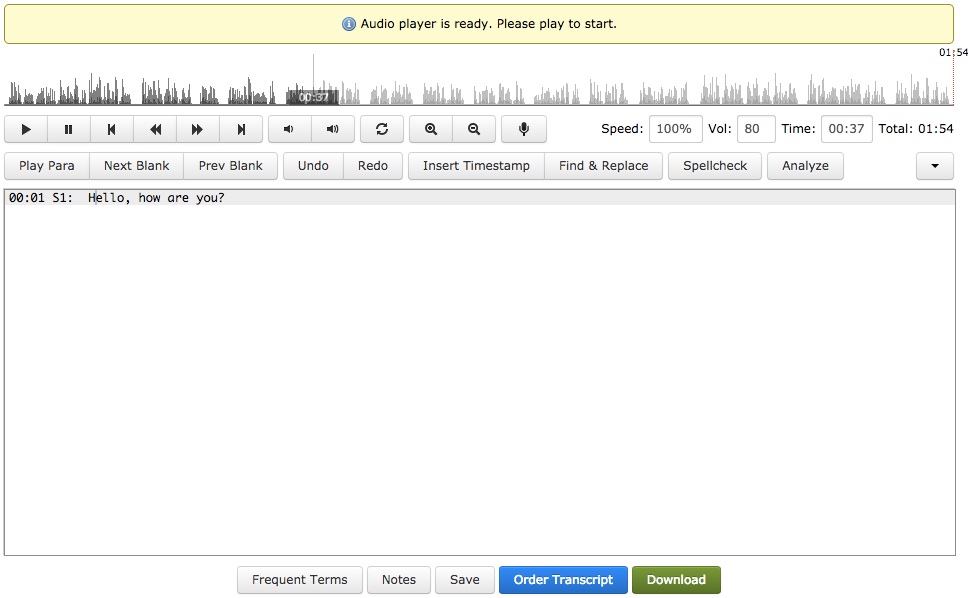 If you've been keeping up with our posts, you know we've already introduced the Integrated editor, available only through Scribie. Here is the video which shows how to open the Editor. It's a new, one of a kind tool that allows you to put the finishing touches on your transcription or helps you as a freelance transcriber with Scribie. Over the course of the next couple of posts, we'll take a closer look at the features included with the Integrated editor.
For starters, the text editor provides a unified interface which means you no longer have to keep switching back and forth between the text and the audio. It's all right there for you so you save time. Another time saving feature is the keyboard shortcuts. You'll be given standard shortcuts like F7 for rewind and F10 for play, but you can also change and customise the shortcuts to suit your needs. Simply click the drop down arrow in the right of the editor, click shortcut preferences and check out the default list or make changes as you see fit.
There is also the feature of dictation, which is only available for Chrome. This allows you to save even more time by dictating your words instead of typing in the editor. You can select your speaking style and accent and then start dictating.
Other features include auto correct, auto save, and auto capitalisation. These features are similar to what you see in Microsoft Word. The Integrated editor will automatically correct commonly misspelled words, capitalise the first word of a sentence, and save your work after each keystroke so that even if your browser crashes, you can go back to right where you left off.
Live spell check is a feature that helps out with words that auto correct can't identify. Similar to Word, these words will show up underlined in red and clicking on them will produce a drop down menu with suggestions for the word, add or ignore, Google search or the option to analyse the word.
These are just a few of the great features of the Integrated editor provided by Scribie. It's a user friendly editor that also helps to save on time. For more information, check out the Integrated editor here. Stay tuned for more on the other features that the one and only Integrated editor from Scribie has to offer.