Online Audio Transcription
Online Audio Transcription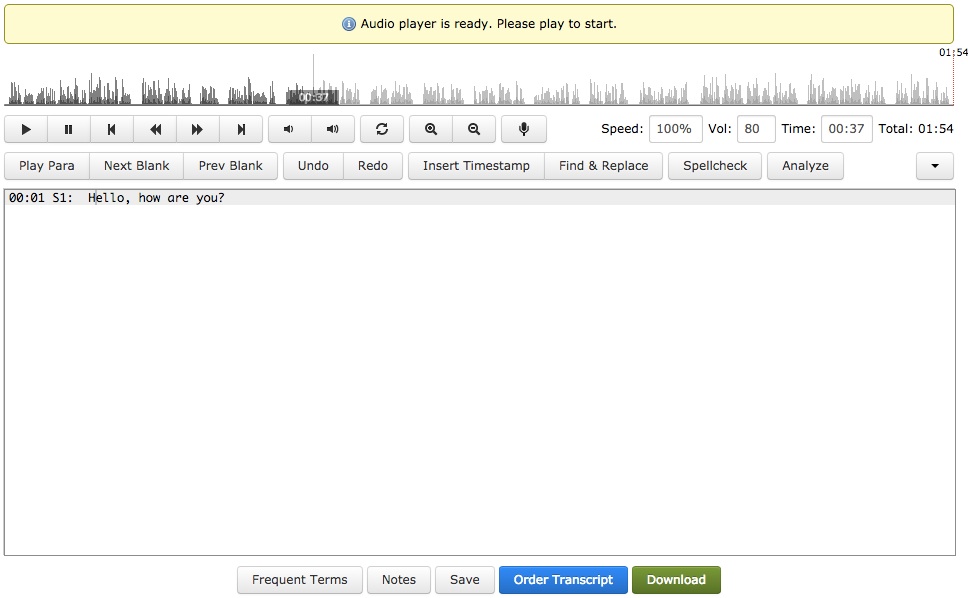 The Integrated Editor is a one of a kind online transcription tool that only Scribie has to offer. We've touched on a few of its features in a previous blog and now we'll continue to talk about more features that the Integrated Editor has to offer.
The Integrated Editor comes with a featured packed text editor that helps you while going over your files. You can click on a line in the text editor and it'll take you to that point in the audio or vice versa.
The Integrated Editor also supports a variety of audio and video formats. Some the formats supported are mp3, wav, m4a, avi, flv, mp4, wmv, and mov. You don't have to worry about whether your file will be supported as there are many types supported in the editor.
A fun feature included in the Integrated Editor is the multi-cursor. This allows you to select a word and change all occurrences of that word to another word. All you do is select a word, press CTL+ALT+G, which highlights all occurrences of that word, and simply type what change you want to make. It'll change all occurrences to that new word.
Another feature that you'll find in the Integrated Editor is text analysis. You can utilize this feature by clicking 'Analysis' at the top of the editor and the least common words and phrases or words not recognized by the editor in the document will be underlined. This allows you to go through your document for accuracy and cohesion. For further analysis, simply right click on a word to provide you with more options.
Want to learn more about the Integrated Editor? Simply click here to see all the features. Next time, we'll discuss the last few features of the Integrated Editor in more detail.