Transcripts of Skype Call Records
Transcripts of Skype Call Records
Today, we introduced a new transcript ordering process and UI. Transcripts are one of the premium features we offer and it is the cornerstone for our business model. Till now we had been offering the service for free. But starting today, we have changed our policy to offer only the first transcript for free. For subsequent orders, an advance payment is required. The payments can be made from PayPal as of now.
Ordering Process:
Here's how the new process works (click on the images to see a larger version).
Once the uploaded file is screened by our system you will get a notification and a link. The link will lead you to the transcripts page. Its a new page and a new menu item.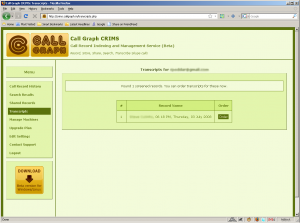 Click on the 'Order' button to place an order. The system will detect if its your first transcript order and offer it for free.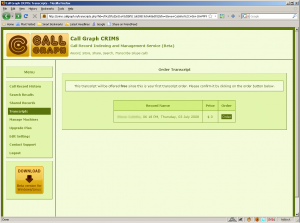 In case this is not the first transcript order then the price will be mentioned and clicking the 'Order' button will lead you to the PayPal gateway. Once the order is done, it will provide a confirmation.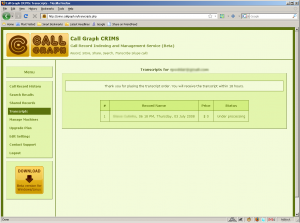 If you want to check your transcripts any time then click on the 'Transcripts' page on the menu. It will show all the ordered transcripts and the files for which it can be ordered.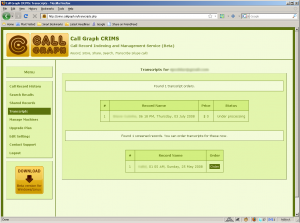 Policy Changes:
Only the first transcript will be offered for free and the subsequent ones will be charged on a per line basis. The cost per line is 7 cents. The payment has to be made in advance and the transcript will be delivered within 18 hours after we receive the payment.
We have also relaxed the minimum duration criteria for screening of call records. Now all call records more than 1 MB are screened by our system.
Whats Next:
Ability to view the transcripts, download it, search through it, share it with others etc. If you have any suggestions please send them across.
Important Note:
If you have ordered transcripts in the recent few days then it probably has gone into a black hole due to the changes that were being done. We'd request you to place the transcript order once again. We'll be mailing you individually as well regarding this.
Please let us know what do you think of these changes. Is this interface simple enough? Is the policy okay? Price high, low? We'd be glad to hear your thoughts on it. Thanks.