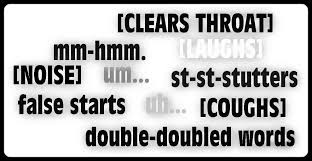 Verbatim transcription is an in-depth and accurate transcription of an audio file. This means the transcription takes into account not only the spoken words, but also the various sounds, the non-verbal communications, and the likes. Needless to say that this type of transcription needs a keen ear and an immense attention to detail. Depending upon how intensive a transcription is it may be classified as verbatim and true verbatim. Each type is important and serves very specific purpose and business needs.
Verbatim Transcription
Between the two transcription types mentioned above, verbatim transcription is less intensive. The transcriptionist catches every word, but leaves out the fillers (words like umm, er, etc.). The transcriptionist also edits out the ambient sounds and the non-verbal communication. This kind of 'intelligent transcription' is generally preferred by authors, bloggers, and reporters who need to know about the subject but are not really in need of the extreme detail.
True Verbatim Transcription
This is the next level of verbatim transcription where the final transcribed material takes into account all the details of the audio file. This includes all the ambient sounds, all the pauses, laughter, and the likes. This kind of transcription is ideal for market research interviews, movie scripts, PhD interviews, or any other research. In other words, true verbatim transcription is important in situations where the 'what' of a subject is as important as the 'how'.
If you are looking for a strict verbatim transcription, look no further than Scribie. We offer such service on demand. All you have to do is specify it when placing an order. Upload your file today and enjoy flawless strict verbatim transcription delivered within deadline.