Sorting, Advanced Search and More
Sorting, Advanced Search and More
We released a couple of changes to the UI that we had been working on recently and added a sidebar to the Call Record history page. This sidebar adds a table sorting, batch operations and advanced search functionality. Here's an overview of these.
Sidebar:
The sidebar looks like the following on the 'Call Record History' page.

It has four widgets as of now: space usage monitor, batch operations sort table and advanced search. The space usage shows a graphical representation of the storage space used for your account, as the name suggests.
Batch Operations: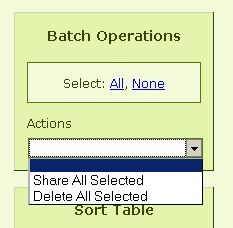 This widget allows you to select multiple call records and do things with them. Right now you can either share them with others or delete all the selected ones. We will add more options to this widget as we go along.

Sorting: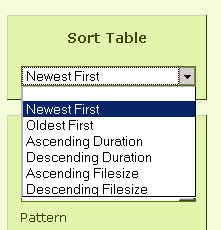 The call records view can be changed using this widget. Four options are available as of now: newest first, oldest first, ascending/descending order of duration and ascending/descending order of file sizes. Once you have sorted them you can use apply some batch file operations on them.
Advanced Search: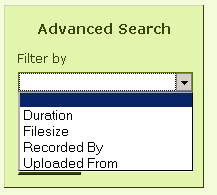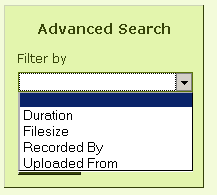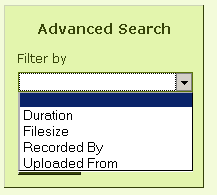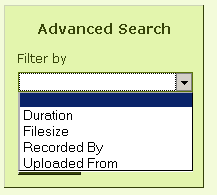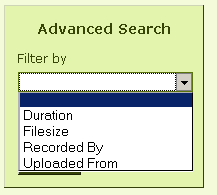 Advanced search can be used to filter the call records which match a specific criteria. The four filters available now are duration, filesize, recorded by and uploaded from. So if you want to list all the call records uploaded from a specific machine, then select the uploaded from filter and apply the name of the computer in the pattern part. That will list all the records uploaded from a specific machine. Similarly for recorded by. The patterns in the duration and filesize case can be something like '>10 MB' or '10 < seconds' etc.
Once the results are displayed, you can apply either use batch operations or sort them using the sorting widget.
To illustrate the use of these widgets, suppose you want to list all the call records made to a certain person which are greater than 5 mins, oldest first. To do this, you first use simple search to list all the records with that persons name, then apply the the duration filter using the advanced search widget and finally apply the sort with oldest. The resulting page will have all files listed. Now if you want to share all of these at one shot, use the batch operations to select all of them and then select "Share All Selected" from the dropdown. Fill in the email address and call record will be shared!
New Storage Plans:
We also added four new plans: the 8 GB @ $5 p/m, 18 GB @ $10 pm and their yearly counterparts. The payment UI has also been changed and now you can check your status once you have subscribed to it, or cancel the subscription if you want to.
Transcription Rates:
The rates of our transcription service has also been changed to 50 cents per minutes instead of the per line. So for a call record of half an hour, the transcript price will be $15.
What's Next:
As you would notice, the records table has become a bit cramped up because of the sidebar addition. So in the next iteration we are planning to change that. We are also planning to add a mail notification setting so that you can control how you receive mails from CG CRIMS. Watch this space for more.
Hope these changes are useful. Please do send us your feedback on it.