Introducing Profiles and Stats
Introducing Profiles and Stats
We recently launched profiles for our certified transcribers. Here's a screenshot of my profile.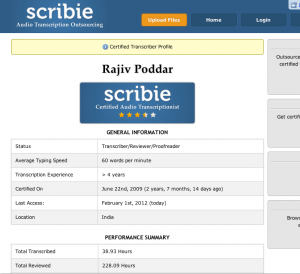 It contains some background information, relevant professional experience and performance and work history on Scribie.com. It gives you an idea of who the transcriber is, how much work he or she has done and how has the work been. The profile is very basic right now but we will be adding more functionality to it soon.
So how is this useful? Well for starters you can check who worked on your files and how much time they spent working on them.
https://scribie.com/profiles/files
These stats are broken down on a per file basis as well. The stats section has the link.
https://scribie.com/transcripts
Additionally, if you're happy with the result then you can choose to pay a bonus to our transcribers. These transcripts are prepared painstakingly and a bit of appreciation can go a long way! You can pay the bonus to the one's who have worked on your files or an individual transcriber from their profile page. If you pay to the group then it's divided up equally amongst all of them. We also do not keep anything for ourselves, except for a 5% charge to cover the fees. All of the money goes directly to the transcribers.
You can also browse all the transcriber profiles from here, the one's which are public. We break it down in various lists: top 25 transcribers, reviewers, most active, by country etc. Have a look.