Audio Transcription And Teleconferencing: A Perfect Match For Each Other!
Audio Transcription And Teleconferencing: A Perfect Match For Each Other!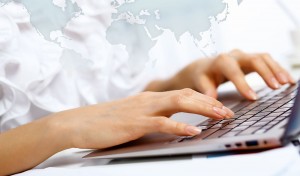 Global scenario has increased communication between companies, their clients and subsidiaries. Due to rising cost involved in traveling, companies are looking for cheaper but effective ways to facilitate meetings. With the advent of teleconferencing, you can do conference call anytime to serve your purpose. This keeps your business open to opportunities as well as it is a great medium to showcase your potential to your clients. From elaborate sales calls, board meetings, product demonstrations, live consultations with doctors or providing video lectures to students, teleconferencing finds its application in all spheres.
To make it easier for you to remember each and every activity on conference calls, audio transcription comes in handy. Audio transcription works for wide range of business, educational, medical, organisational, or in-house informational exchanges where a virtual conference takes place. Teleconferencing with audio transcription saves companies time and effort in more than one way. Audio transcription converts teleconference calls from audio formats into various text-based documents. The textual conference call transcripts can act as a useful reference when one wants to review everything that was discussed in a teleconference call. This is very useful for a conference call that involves lengthy communication between groups of people who are globally located. It is unmanageable to make written records of a meeting. Collecting notes from all members involved in a call can be tedious and time consuming. Transcribed teleconferences come as a solution to this problem by presenting either exact transcripts or professional transcripts of a teleconference.
Scribie has the right balance of teleconferencing with audio transcription, both matched perfectly. Advantages of Scribie's teleconferencing service integrated with audio transcription:
The teleconference service is free. You will be charged only for the transcripts.
Interface is simple yet very user friendly. Just book a call and the rest is automated. The recording starts automatically. No need to download and upload the audio files. The transcripts are ordered from your account automatically once the call ends.
You get the best quality audio(recording off the wire) which in turn produces best quality transcripts.
Our transcription team has an outstanding mix of transcribers, proofreaders and quality analysts. Each transcriber has good comprehension skills and capacity to listen with concentration to pick up each word. The results are reflected in high productivity rates and customer satisfaction levels.
We provide you the time advantage which says while you are asleep, we are working on your files to be transcribed so that next morning your audio transcription is done.
Timely delivery and prompt after delivery services, because we care for our clients.
Teleconferencing is incomplete without audio transcription and we at Scribie makes this combination more powerful and beneficial to our clients.
You can even record phone calls using our call recording services and get it transcribed. Please check the link below for more details about our conference and phone call recording service, with automatic transcription.
https://scribie.com/conference/recording
Please send a mail to support@scribie.com or you can chat with us directly for any queries.