Podcasting Benefits That Your Business Shouldn't Miss
Podcasting Benefits That Your Business Shouldn't Miss
Regardless of your line of business, you'll have to keep on looking for new, effective ways to reach your target audience.
Working on the right digital marketing strategy to make your business stand out takes extensive research and hard work.
For budding small to medium business owners on a budget, podcasting can be the solution they are looking for.
Some businesses have not yet tapped the true potential behind podcasting. Podcasts packed with rich information, showered with entertainment, and engaging conversation energizes business owners and listeners alike.
Let's dig into the benefits of adding podcasting to your business content marketing strategy.
Reach Out to Multi-Taskers
Podcasts' versatility makes it readily available to anyone with a smartphone and for the on-the-go lifestyle of its listeners.
In fact, 87% of podcast listeners enjoy podcasts because it allows them to listen while doing other things.
For example, you can't watch a video or read a blog while driving a car, but you can listen to a podcast.
Whenever the environment makes it hard to consume visual information, on-demand audio works best.
Add a Personal Touch
The casual nature of podcasts allows the host and guest(s) to open up. As a result, your listeners are naturally interested in the topics that can make them feel that your content is made for them.
If you're already blogging, why not reach a larger audience through other channels? Especially if you feel comfortable in front of a mic, give podcasting a try.
Broadcasting podcasts regularly will establish your presentation style and voice that your audience will be familiar with.
Meaningful podcasts will allow you to have a deeper connection with your listeners as it's easier for them to understand your emotions than reading text alone.
If you have a podcast transcript available, it can greatly help your audience can read as they listen along.
Budget-Friendly, Simple, and Efficient Marketing Tool
Wistia states that between producing video content and podcast, podcasts are relatively cheaper and easier to execute.
When your business wants to dive into podcasting, you simply need to set up your podcast equipment and have a reasonably comfortable host. You won't need to dress up or think about lighting.
In terms of marketing, the competition in the podcast space is also lower compared to other social platforms. Among other examples, on Facebook, there are over 60 million business pages, while there are over 2 million podcast shows.
If you need to promote your show, the subscriber will be alerted for new episodes through RSS feeds (and the like). This automatically takes care of some distribution for you.
Aside from that, since podcasting is relatively efficient to produce, you have more allowance to experiment by piloting diverse podcasts with different formats so that you can test which will work best before you dive deeper into creating podcast content.
Encourage Collaboration and Productivity
Did you know that 39% of small and medium-sized business owners are podcast users?
Through podcasts, not only does it help in bringing your brand closer to your audience, but it also allows you to connect with your employees and expand your network by regularly inviting guests to your show.
As many companies are adapting remote work, podcasts can help people feel that they are part of the team regardless of their location.
Podcasts are great for keeping everyone in the loop aside from the usual internal discussions. It's common for employees to learn more about the business by hearing their leaders open up in more public channels such as podcasts.
If you can identify your team's strengths, you can use their skills for your marketing strategy.
For example, you could have a great editorial team; you can focus on blogging. Do you have a team member passionate about your business and loves engaging, live discussions? Perhaps, you can tap them to be podcast hosts.
Need Long-Form Content? Podcasts Got You Covered
If you already have a blog or video content strategy, podcasting would be a powerful addition.
Short-form content of blogs, tweets, and videos helps your audience to have a glimpse of your products or services.
An average podcast show goes for 20 to 40 minutes. If you intend to provide extensive details, podcasts can help you elaborate on your stories and help your audience understand the value of your offers.
Develop relationships by enabling your audience to spend minutes or hours with you every week.
Distribute and Repurpose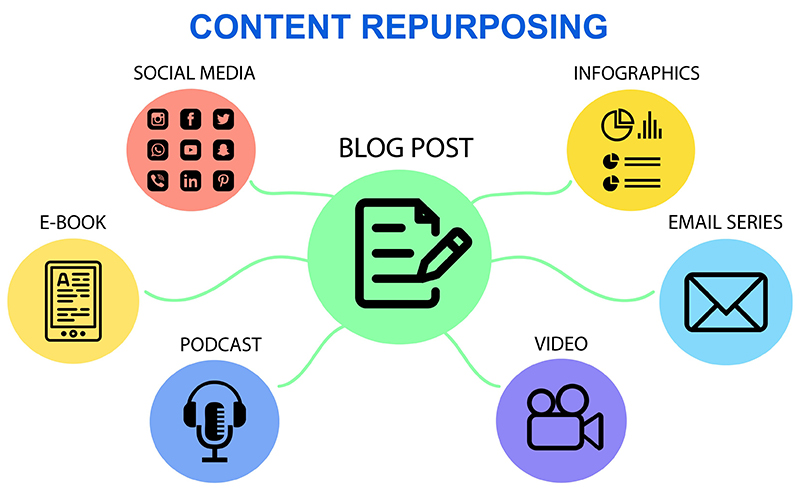 via Renderforest
To show up on more channels, you can record a video version of your podcast. This could be with video footage of your conversations or simple visualizations. With video files, you're able to upload your shows on channels like YouTube and Twitter.
Also, consider transcribing your shows. This can help your audience follow the conversations plus you'd get written content to populate new blog posts associated with your podcast episodes.
With written content made from your podcast transcript, you'll also have more material for gated content. For example, this kind of material could be available only for blog readers who have entered their email addresses.
Over To You
Businesses who understand the power of audio will have a huge advantage over those who don't.
Meaningful and informative podcasts can influence a buyer's purchase decision.
Use this medium to your advantage to relay your brand's message so that you can potentially turn your loyal podcast listeners into paying customers in the long run.
It helps to consider making your podcasts accessible; not only does this information help position your brand that cares for its audience, but it helps your credibility too.
Got a podcast episode to transcribe? Upload your file now.