Scribie vs. GMR Transcription: How Fast Do You Need Your Transcript?
Scribie vs. GMR Transcription: How Fast Do You Need Your Transcript?
Looking for the best transcription service for your organization?
Scribie believes that transcribing audio and video content into a text should be simple and fast.
When your business needs are technical, such as those in legal or financial sectors, accuracy matters most.
In a fast-paced environment, you'd want results fast to make business decisions fairly easier. By recording important events, you can have them transcribed to have a document that can be repurposed.
This 2022, you might be looking for the best transcription service for your business.
While you look at the cost of services, you can also consider the turnaround time and other features a transcription service offers.
We're comparing Scribie and GMR Transcription to help educate your purchasing decision and help you determine if it will fit your transcription needs.
Why Use a Transcription Service?
Start your year right by making every moment count.
Having your audio transcribed will help you recall important details from meetings, calls, and webinars.
Moreover, it also allows you to repurpose your existing content.
You can be more productive by delegating tasks such as transcribing files to a professional transcription service rather than doing it yourself.
Usually, transcription services offer two kinds of transcription – manual and automatic.
Manual transcriptions ensure a higher accuracy rate as the file is transcribed and reviewed manually by transcribers.
On the other hand, automated transcriptions use AI to help convert the audio or video file to text. This is faster; however, it may not be as accurate compared to manual transcription.
Registration
Scribie welcomes everyone to be its customer without a fee. All you have to do is Sign Up for an account by filling out the form.
On the other hand, GMR charges a $1 registration fee to validate your account.
Pricing and Turnaround Time
Scribie offers the lowest price with faster results.
Scribie:
$0.80/min with 24 hours turnaround time for audio and video files
GMR:
$2.25/min with 1-2 days turnaround for audio files
$2.75/min with 1-2 days turnaround for video files
$1.25/min with 3-4 Weeks turnaround for audio files
$1.75/min with 3-4 Weeks turnaround for video files
Time is not going to wait for anyone.
When hiring a transcription service, you expect to get the transcripts at the soonest possible time. Here at Scribie, we guarantee to deliver your transcripts within 24 hours.
Considering Scribie vs. GMR's price per minute, Scribie rates are lower at only $0.80/min.
What's excellent about Scribie's pricing is how it's standardized across the type of file that you'll be uploading. You're just paying the same starting rate of $0.80 per minute, whether a video or audio file.
Lower transcription fees make a huge difference when you have an hour's worth of recordings. Say you have 30-minutes' worth of recording; you may end up just paying it for $24! That's a huge chunk of savings!
Audio time coding
Scribie: Free Audio Time Coding
GMR:  $0.50 extra per audio minute
Does your organization include post-production works editing a podcast or a YouTube video? Transcripts will play a significant role in helping you or your editors be efficient in editing.
The time code usually indicates when the speaker changes. If your transcript includes timestamps or time codes, it will be easier to locate parts that need to be edited.
With the help of timestamps, it will be easier for you to match the text with a specific scene. Thus, video editors can readily find the segments they want during post-production.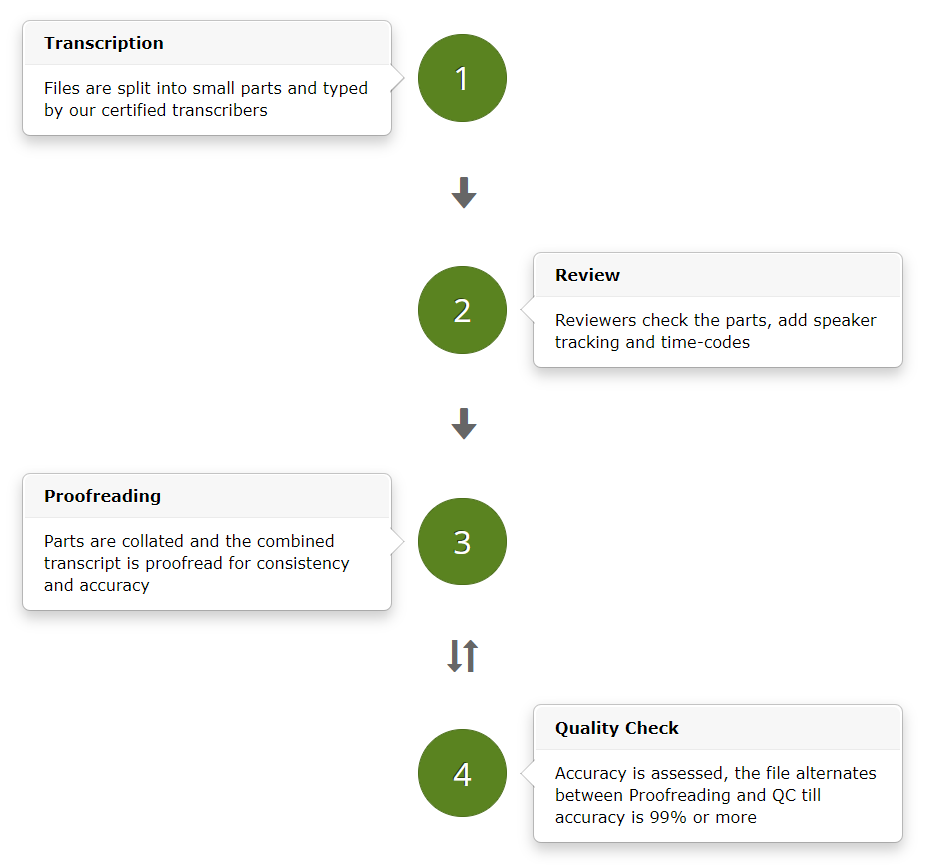 Accuracy
Scribie: 99% accuracy
GMR: 99% accuracy on good quality audio with up to two speakers.
Scribie and GMR provide manual transcription services.
It means that human transcriptionists do transcripts themselves.
Most transcription companies rely heavily on automated transcription processes, which can yield numerous errors.
If your business calls for accurate transcriptions, you should consider transcription services that provide high accuracy rates.
Both Scribie and GMR commit 99% transcription accuracy.
What makes Scribie stand out is the Four-Step Process that we have created to ensure that we provide 99% accuracy or higher.
This unique transcript review process will ensure your transcript's quality has been vetted multiple times by Scribie specialists.
Different transcribers working on one file ensure a high level of quality from your transcript. As a result, turnaround times for transcripts tend to be quick.
As our commitment to providing accurate transcripts, we offer free re-reviews. If we fail to meet the 99% accuracy standard, you will get a bonus credit that you can use on your next order!
"Scribie has always provided top-notch service. Transcripts are always delivered on time – usually ahead of time, and your attention to detail is most impressive. We do a lot of interviews, sometimes 6 or 8 a day, and it is all too easy to incorrectly identify a recording. I am very grateful that, on more than one occasion, you have noticed and brought to my attention when this has happened." – Bonnie Wooding, Buyer Persona Institute
Over To You
Scribie has been around for over a decade and is here to continue developing services for your transcription needs.
We value your time and understand the sense of urgency you need from your recordings.
It's time to hustle! Start recording your meetings and upload your recordings today. Get your transcripts done right away!