New In This Version
Inbuilt Player: The player has been replace with a new version. It now displays visualizations as well as the amplitude information. Here's a screenshot.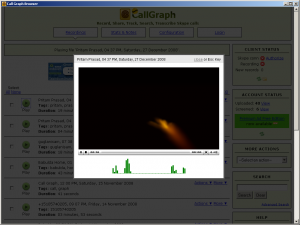 Wav Files: Wav files now can be uploaded to your Call Graph account and played back using the inbuilt player. This was not possible in earlier versions. A copy of the wav file is converted into mp3 and played back or uploaded. If you are using Call Graph for podcasting, you can now user our web service to archive your podcasts!
CPU Stats: CPU stats has been added to the stats and notes page now as well. You can check the CPU loading during the recording if you open the stats/notes window. Only available in the browser UI mode.
Bug Fixes
Volume Drop Issue: The volume drop which used to occur when recording was started is now gone.
Potential Stack Overflow Issue: If you are experiencing intermittent crashes during the recording, then please update. The encoding thread had a potential stack overflow issue which was fixed in this release.
Please update now! And dont forget to authorize Call Graph to use the Skype API after the update. Thanks.