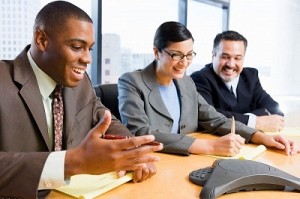 Scribie is pleased to launch its own teleconferencing service integrated with transcription service. The conference calls will be hosted by Scribie and will be automatically recorded and ordered for transcription.
Pre-requisite
You have an account with scribie.com.
You will need to add and store your credit card details since the transcripts will be ordered automatically.
Steps:
Please goto the link below to get started.
              https://scribie.com/conference/recording
Please add the credit card details if not added before. This is important since all the calls will be automatically ordered once recording is over.
You can now enter the details of the call like description, start recording trigger and recording length.
In the transcripts type you can select the turnaround required for the transcripts. You can select other options for transcription by clicking on the more options button.
Click the book conference button to get the pin code for the call.
The conference call number and pin code will appear on the window, which has to be shared with other participants.
You can start the call with the given details.
Once the initiator ends the call or the recording length selected gets over, the recording stops and the order for transcripts will be placed.
Please note that this is the first version of the Teleconferencing solution integrated with Transcription Service. If you encounter any issues please contact support@scribie.com or chat with us directly.