6 Steps: Record & Share Successful Meetings
6 Steps: Record & Share Successful Meetings
Yet another meeting is coming up. You want to find better ways to process the information, record and share all of the important discussions.
Writing or typing snippets of ongoing meetings is, admittedly, a bit archaic. We've all raced to follow and type points from a speaker. You tend to miss important points or accidentally misinterpret ideas.
The traditional meeting minutes are also usually incomplete, missing contextual details that can change the interpretation of conversations.
Recording meetings can actually be a seamless process, and there is real value in owning a full text copy, especially if the discussion is critical. To get started, simply have a recording going on in the background.
The best way to record and transcribe meeting minutes is by recording audio, then outsourcing to professional business transcription services to create transcripts of your recurring meetings.
Let me help you ensure that meetings throughout your day are maximized.
Here's a step-by-step guide towards a successful and complete recording of your business meetings through transcripts.
How to make better use of meetings
Keeping text copies of your meetings helps you and your participants remember important points.
However, when I think of meeting minutes, hastily scribbled written notes that are incomplete and often indecipherable comes to mind.
Also, when team members are focused on taking notes, their focus shifts from the meeting.
That is why a good, complete transcript is important as a record for points discussed. It can be used for internal archives, sharing, or a reference for public-facing communications
Team members can review what went on during the meeting, while those who missed it can stay up-to-date with an accurate transcript.
In the meantime, as you record audio and have it transcribed, you feel safe with the knowledge that the text is accurate, truly representing the meeting's content and purpose.
1. Prepare for the meeting.
One way of preparing for the meeting is by having an outline ready containing the purpose and points to be discussed.
It can be a simple outline of the topics or concerns to be addressed in sequence.
Make sure to distribute the outline to participants beforehand, so that they can prepare, as well, with their input and ideas around the topics.
An outline also makes the discussion go smoother, ending up in a transcript that will be easy to consume and a joy to read.
2. Use a good recorder.
Getting a clear audio recording ensures accurate, good-quality transcripts. It also makes the whole transcription process easier.
Place the recording device somewhere in the room where it can pick up all the voices of the participants in an even volume. This can be at the center of the table.
Placing it too near a single person might produce an excessively loud voice recording, diminishing audio input from other participants.
Here are a few recording software/devices that work well for transcriptions:
Your mobile device's voice recorder for an on-hand solution.
Sony UX560 for crisp, clear audio in the most-common recording situations. It recharges via USB and lets you easily transfer files to a computer.
Scribie for transcribing audio/video recordings and online meetings
3. Introduce yourselves.
There is a reason why I'm suggesting an introduction at the start of the meeting.
You might already know each other and feel a bit silly going around the table for an introduction, but if you prefer indicating speaker turns in a particular transcript, this can be useful.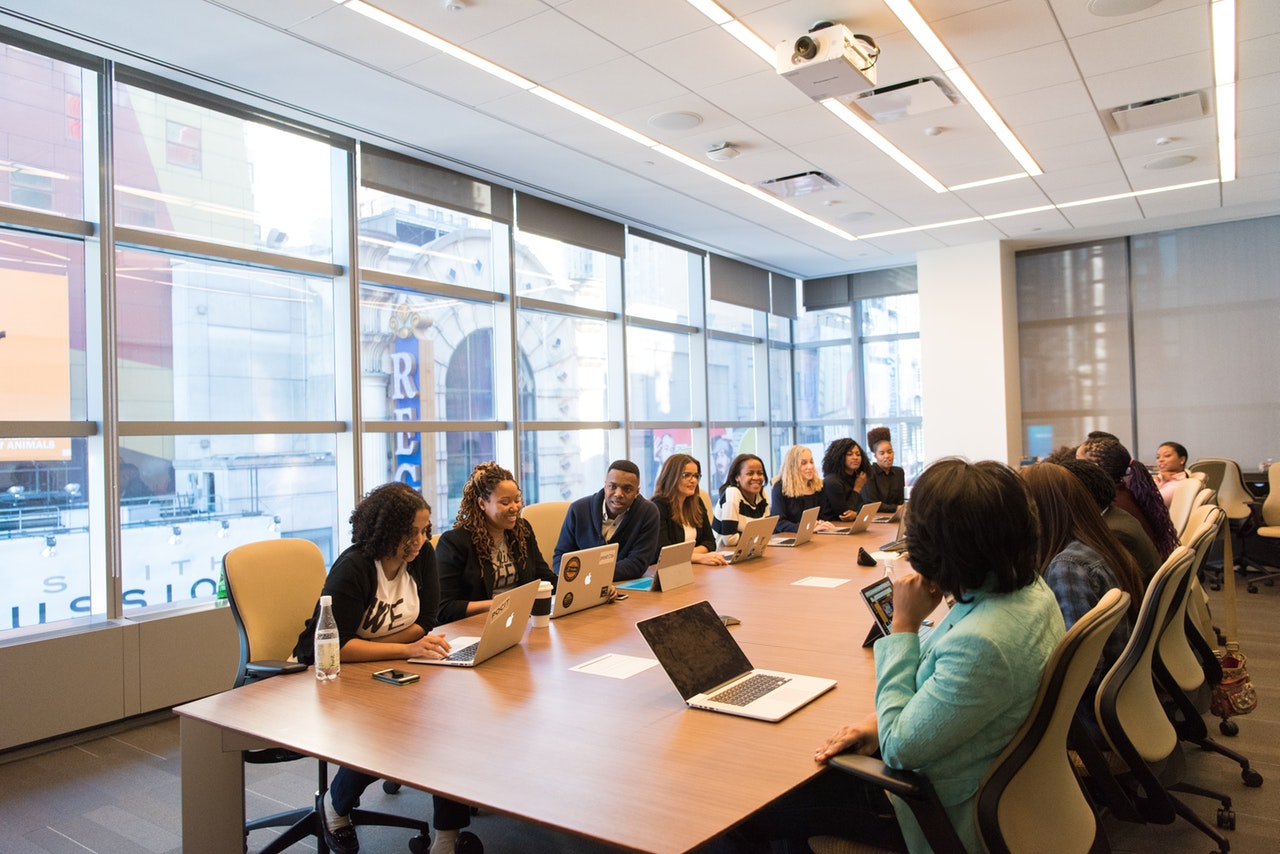 There's a good chance that the assigned transcriptionist won't recognize the identity of speakers.
Mentioning the names of meeting participants will allow your transcriptionist to include speaker names and associate a voice to a speaker.
Speaker names in transcripts let readers know exactly who said what during a meeting.
You can do this by having members state their names and a few things about themselves beforehand, such as their positions.
Scribie's meeting transcription services, for instance, detect multiple speakers and attribute names to each speaker in the transcript.
4. Set meeting rules.
For crisp and clear communications, set rules for talking.
Setting meeting rules keeps the process smooth and organized. Discussions and points are heard and understood more easily by everyone, and every participant gets a chance to join in and contribute to the discussion.
This also leads to cleaner recordings. Clean audio files make playback and the transcription process afterward considerably easier.
Instruct participants to avoid interjecting and talking at the same time as this makes information hard to follow. In any case, with or without transcription in mind, we want to be polite and competent communicators.
Each speaker should finish before another can begin.
This helps others follow the course of the meeting, distinguish the points of a speaker from another, and produce a clearer, cleaner transcript.
5. Remove background noise.
Background noises can interfere with the recording of your meeting.
Prior to the meeting, remove any potential distractions or items that can cause background noise or audio distortion. This can be a noisy air conditioner, pen caps, doors opening, or others.
Background noises reduce the clarity of your recording, mask conversations, and potentially introduce mistakes in the transcript.
6. Hire a professional transcription service.
Once you have an audio recording, whether it's in an MP3, MP4, or another file format, you have several options for transcription.
You can either DIY it, assign transcription to a team member, or outsource to professional business transcription services.
Scribie has the expertise and software necessary to quickly create your transcripts with 99% accuracy in your desired format.
Why Outsource with Scribie?
Scribie ensures that you get the most complete and precise meeting transcription services, with business features including team accounts and centralized billing.
Outsourcing transcription with Scribie has several benefits:
Invest more time and focus on the work you need to do
99% accurate, quality transcripts by skilled specialists
Confidentiality and privacy
Save time and faster delivery
Team account: Grant access to your team members, share payment methods, files
Account credits: Add funds to your Scribie account and share them with your team members
Our exclusive, rigorous Four-Step Transcription Process provides the highest accuracy, quality assurance, speedy delivery, and privacy for customers.
Through business meeting transcriptions, you (and your team members) will never miss important ideas and topics shared during meetings or conferences.