Remote workers, including Scribie transcribers, are considered self-starters and expected to observe utmost self-discipline.
However, every day may not always be a good day for everyone. There will be times that you need to drag yourself to your desk and feel that you lack the motivation to get the job done.
Know what? That feeling is normal, and it's okay to feel occasionally uninspired, but it's not okay to stay that way.
Staying motivated is challenging, especially when you're working from home and distractions might surround you. Don't be too hard on yourself if you find yourself struggling to find the motivation booster you need.
To help you rekindle your passion for your work, we're listing ways to stay motivated and succeed in your career as a remote worker.
Remove the Blockers That Keep You From Getting the Job Done
Starting on a task that you have no idea how or where to start can be intimidating.
In the long run, you may have doubts about your skills and capabilities in your role.
However, most of the time, it's just a phase, especially when the task is something new to you and might look overwhelming.
Once you start and get the hang of it, things will become less daunting. For example, if you're working on a transcript that includes a lot of unfamiliar names, sometimes all you need is to research more wisely (and Google).
Keep working until you build your confidence and momentum.
Handle Distractions With Grace
While working from home brings a lot of perks, it has its share of challenges. One of the common challenges is exposure to distractions at home. You may be tempted from time to time to check your phone, get pulled by kids craving attention, attend to household chores that pop up, etc.
You must know how to handle these distractions, and several apps can help you stay focused.
You can try the Pomodoro Technique. It's a simple app for time management that aims to boost productivity. It allows you to work on a task in 25-minute increments, tick something off your to-do list, and then take a quick break. In this manner, you get to organize the things you need to accomplish, stay productive, and keep track of your progress.
There are a couple of Pomodoro apps in the market like MinimaList that you can try yourself.
If you want to analyze the time you consume per audio file or any work in general, you can use time tracker apps like Toggl.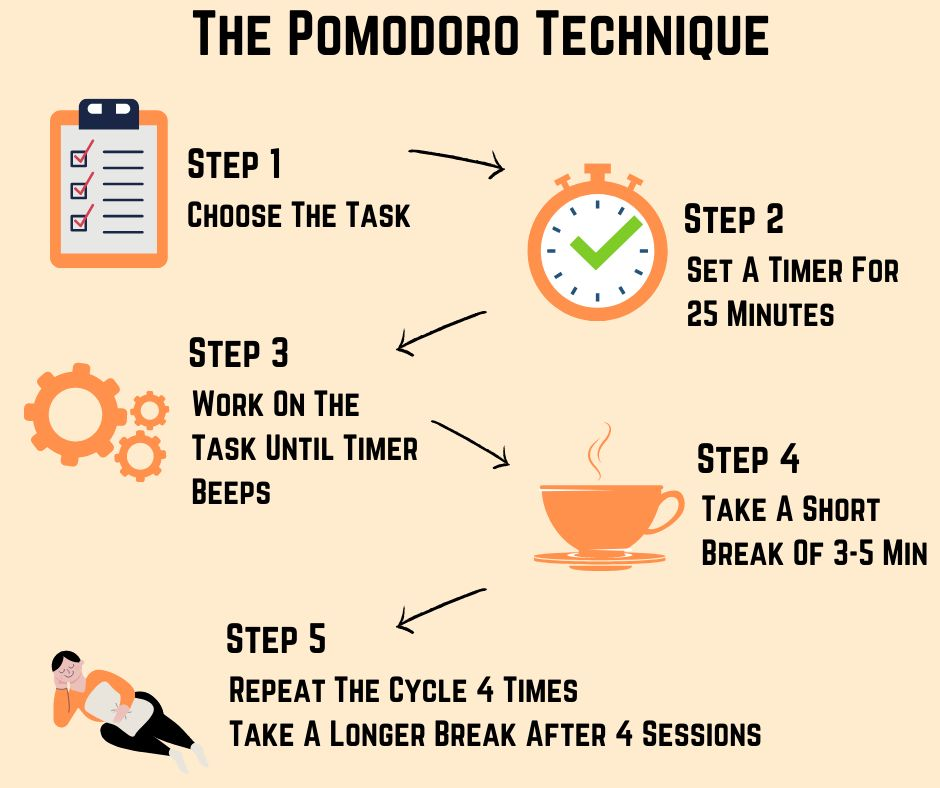 Pomodoro Technique via Productive Club
Start Small and Early
Regardless of the audio file size that you're going to transcribe, it would be best to begin right away.
Begin a small chunk of work early. You could commit to a quick, 20-minute session. After beginning, you'll find that it's easy to just keep going.
As they say, action begets motivation. Even if the task turns out trickier than anticipated, the fact that you've already started inspires you to overcome hurdles.
You can apply this technique to transcription or any other activity, especially those that you find a little daunting.
Get Enough Sleep
Self-care is essential, and getting adequate sleep is one thing you can do at no cost.
When you're in the zone, you might be tempted not to stop to avoid losing momentum.
In the long run, lack of sleep may cause you to underperform.
If you're unable to manage your tasks and get forced to stay up late, you have to organize your tasks and time. It helps to have a dedicated working space (especially a place that is not your bed) to separate your working space and living space.
Follow a sleeping pattern to maintain your body clock.
Reward Yourself and Create a New Goal
Most of the time, when you're working remotely, you will be the one to recognize your success, unlike in a corporate setup where you can get face-to-face affirmations for a job well done.
If you're unsure how to measure your success, you can set short-term and long-term goals.
A small goal could be hitting a perfect grade on your transcription, and a long-term goal could be a job promotion.
Rewarding yourself can be a quick vacation, shopping, or enjoying a nice meal in your favorite restaurant.
Keep In Mind the Reason Why You Started
When things aren't happening the way you like them to, it helps to remind yourself why you wanted to be a remote worker, specifically a transcriber, in the first place.
Did you want a flexible work arrangement? Were you craving for more time with your loved ones? Are you looking for means to provide food on the table while avoiding commutes? Do you feel strongly about avoiding office politics?
Most likely, you will always find one more reason to re-ignite your motivation, which will help you keep going.
Over To You
Whenever you're not feeling fired up, there's no harm to acknowledge it and act on it.
Sometimes, you just need time to reflect and figure out the reason behind your lack of motivation so that you can find the best solution to overcome the challenge.
Remind yourself why you chose to be a transcriber and its impact on your life and the clients you have served.
What are the things that help you stay motivated? Join our discussion on Slack.