Do you have what it takes to be a good podcast host? Are you thinking of ways on how you can effectively run an episode that will captivate your audience?
We understand the benefits of podcasting. These audio shows allow us to keep our audience company while sharing messages that would be difficult or impossible to express without this channel.
With over 2 million podcasts out there and plenty of podcasters that publish epic episodes, you'll want to keep honing your skills to stand out.
Being comfortable and confident in front of a mic is essential, and your hosting skills need to be up to par. You may have the best topics in mind to discuss, but if your podcast host can't produce a lively, engaging discussion, your content may fall flat.
You'd want your listeners to keep tuning in to your show and eventually lead them to be loyal subscribers and potential customers in the long run.
Keep on reading as we share with you the steps you should consider developing to boost your skillset as a podcaster and run a successful show.
Be Prepared and Plan Your Outline
Like any content creation endeavor, you need to prepare to avoid flying blind during the show.
Having a well-thought-out plan will enable you to do some research and help you develop a credible point-of-view that you can share with your listeners.
The same thing applies when inviting a guest to your show.
Build your confidence before going on record by researching your guest's background, recent achievements, social media posts, etc. Your guest and listeners will appreciate it, and it won't leave you flustered in the middle of your conversation.
Castos suggests that outlining your episode's talking points will help you stay on track.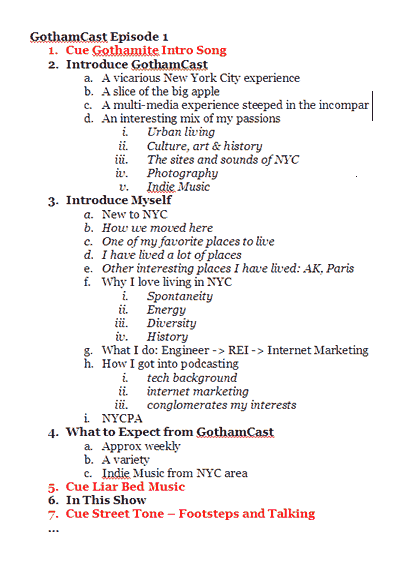 You don't need to use every detail in your outline. Instead, let this be a reference to use based on how the conversation turns out.
Be Yourself and Sound Natural
After doing preparations and putting an outline together, explore ways that will allow you to have a natural conversation. Without paying mindful attention, it's easy to sound robotic as you introduce the guest and ask questions.
Sharing stories with your audience makes your message relatable and makes it feel that you're building a personal connection with them.
Your listeners tune in as they trust that you have authority on the topic they're interested in. Treat your listeners like friends who are looking forward to a conversation. You'll flow more naturally if you're not preparing a show like it's a lecture.
Let Your Guest Display Their Expertise
Having a guest that shares your passion and knowledge in your niche can make your listeners stay invested in your discussion. However, for your listeners to learn from your guests, you need to allow your guest to shine.
Treat your guest the way you would like to be treated when it's your chance to be invited. What does this look like?
Prior to the day of the interview or before going in front of the microphone, you can ask if they have topics in mind they want to talk about. Tell your guest about your audience's profile so that they can handpick messages that are more likely to resonate.
Put yourself in your listeners' shoes. Steer away from close-ended questions and know how to ask follow-up questions so that you can encourage guests to elaborate on their points for your listeners to understand.
Pay attention to your guest's flow, and don't cut them off to move to the next question as if you're hosting a quiz show. As your conversation goes more naturally, keep in mind that you'll use your talking points to guide your guest back on track when they go off-topic.
Engage With Your Listeners
When you and your guest continue to make an engaging conversation, it helps to bear in mind to involve your audience.
How am I supposed to do that when my audience is not in the same room as me?
We Edit Podcasts suggests that you think of your audience as a third person listening to your conversation and let them discover new insights along with you.
While podcasts may be a one-way medium, you can invite your listeners to interact with you after the episode by asking feedback or urging them to submit questions for you to answer on your next podcast episode.
You can direct them to your social accounts to collect questions and feedback. It's nice to mention their names and give a shoutout so that they will feel that you care and you're building a connection with them.
Have Your Show Transcribed
A serious podcaster strives to provide value for their audience even after the show is over.
Transcription is a key solution. Not only does it make your show more accessible, but transcripts help you with SEO and producing other content formats as well.
With a transcribed episode, you can repurpose the written version to display show notes. Using the timestamps, you can entice your listeners to jump into specific parts of the conversation. This invites them to dwell longer on your site.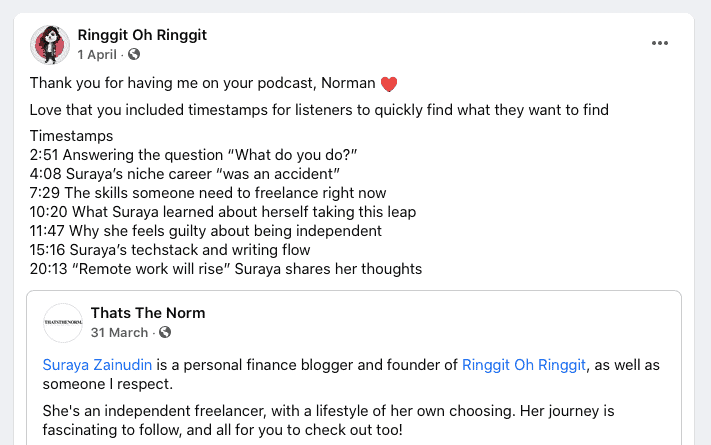 via AppSumo
Having a transcript will also significantly improve your productivity. It allows you to edit your podcast audio more easily, and you can use transcripts as references when going through past episodes.
As you listen, identify areas that you can improve on, such as audio issues, unnecessary fillers, and your conversation skills.
Over To You
Podcasting is here to stay. Your thought leadership and passion will resonate with your audience, who shares the same passion.
To be better at hosting and running your podcast show, you need to keep recording.
While creating transcripts can take away valuable time and energy in developing content for your future episodes, Scribie can handle this task off your hands. The high-quality transcripts we produce include timestamps for no extra cost.
Upload your podcast audio/video file to order a transcript today!