Qualities of a Great Transcription Service to Look For This 2022
Qualities of a Great Transcription Service to Look For This 2022
To start your year right, you may want to learn how to work smart.
You can improve your work habits, look into new tools to help you be more productive.
You may be eager to start with fresh ideas in mind that you would like to share with your organization.
How can you keep up with all the work demands, including the meetings you need to attend?
Thankfully, you can record meetings or interviews. Afterward, you can hire transcription services to transcribe the audio file into text.
Which transcription service should you use? Are you new to using transcription services or looking for an alternative service? You might be wondering what makes a transcription service suitable for your needs?
A quick Google search will bring up tons of transcription service providers. There, you'll find TechRadar's list of top transcription services. And see how they've recently ranked Scribie as #1! ? (Update: TechRadar subsequently changed the ranking without any explanation. The original post can be found on Archive.org).
Read on as we share how you should select the best transcription service for your particular needs.
How to Choose a Transcription Service That Meets Your Needs
Transcriptions services can help you significantly, especially when your goal is to unlock the benefits of transcribing your audio or video transcript.
When looking for a provider, the transcription service should meet your needs and expectations.
What are your priorities?
Do turnaround times matter more than budget, or is it the other way around?
To help you make the right decision, you need to consider several factors. Check out if the transcription service can provide the following services:
Dedicated to High Accuracy ?
Getting high-quality and accurate transcriptions is one of the main reasons to hire a transcription service.
Transcription services should provide 99% accuracy for manual transcription. It should meet at least 80-95% accuracy for automated transcription.
It's easy to claim that a service can produce good transcripts. The best approach here would be to research what kind of system these services have in place to support their claims.
For example, Scribie's four-step process allows us to commit 99% transcription accuracy to our manual transcription services.
With this unique process, your transcript is reviewed by Scribie specialists multiple times to ensure it is of the highest quality.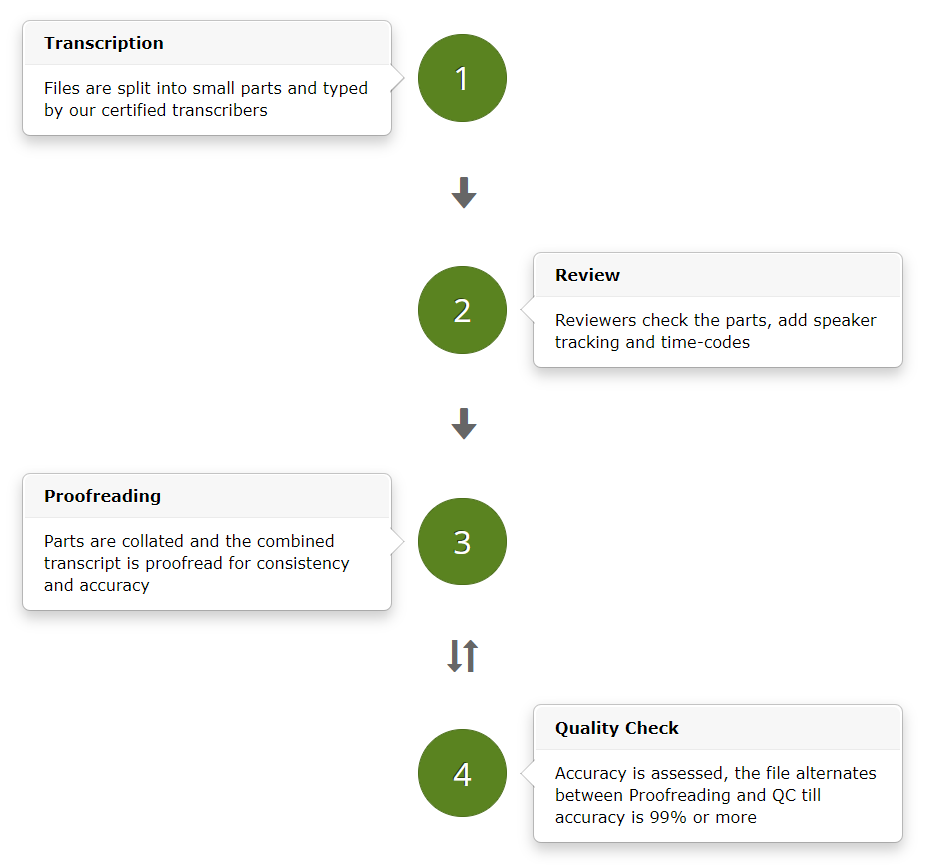 Fast Turnaround Time ⏲
Transcription services usually charge per minute of audio.
Some services offer fast turnaround times but at a higher cost.
If you're in a rush and don't mind doing minor edits, you can opt for automated transcription.
With Scribie's automated transcription, you can get your transcript as fast as 30 minutes!
Our manual transcription will work for you best if accuracy is your priority. In just 24 hours, you will get your transcript!
We have reduced this time from 36 hours (depending on the file size). Yay! ?
Values Feedback and Open to Re-Reviews ?
After reviewing your transcript, who should you contact if some portion of it needs to be corrected?
Would you be able to send it back to the transcription service to have it corrected? Does the service cost anything?
When looking for a transcription service, it's better to check if they offer free re-reviews.
Here at Scribie, we take feedback seriously to prevent such errors from happening in the future.
If you feel the transcript is inaccurate, you may order a re-review.
As a bonus, you will be given credits if we confirm that the transcript fails to meet our 99% accuracy standard.
Simple and Reasonable Pricing ?
Some transcription providers have complex pricing structures.
Pay attention to what you are paying for and what is included in the service.
Some services will have additional costs for faster turnaround time, audio time coding, formats, etc.
At a glance, you should see the cost of the service and its inclusions.
If you're not sure how much the service will cost for the file you want to order, you can get a quote from our Cost Calculator for free.
Respecting Confidential Information ?
Moral values and ethics matter in any business.
Legal case hearings and business meetings containing sensitive information need to remain confidential.
Avoid transcription services that don't offer a Non-Disclosure Agreement (NDA).
Thankfully, this will be the least of your concerns with Scribie, as we guarantee confidentiality.
Transcribers only have access to a portion of the file, which is of no use to them. Additionally, we keep track of every transcriber so that only authorized transcribers can manage sensitive documents.
We do not sell, rent, or share personal information with third parties.
Also, once you delete the files, we remove them permanently from our servers.
If you require a confidentiality agreement, you may contact our customer service at support@scribie.com.
A Team of Reliable Professionals ?‍??‍?
Speaking of service, knowing that you're working with a professional team helps you put your mind at ease.
Scribie professionals continuously hone their skills to be better at providing high-quality work.
Customer service matters most as well. When you're handing over your personal or business files, you'd want someone to be able to talk to.
Our customer support team will be there for you if you have questions or concerns.
Over To You
Consider your options when choosing a transcription service.
Factor in your needs and priorities as an organization.
A manual transcription service is your best option for transcripts that require accuracy. However, automated transcription works best if you're in a rush and don't mind doing minor edits.
One thing is for sure. Both approaches are definitely better than having to do your own transcription.
Do you have a file you want to be transcribed? Try our services and upload a file today.